The style of Italy of the 70s: Penelope Cruz on the set of the film L'immensita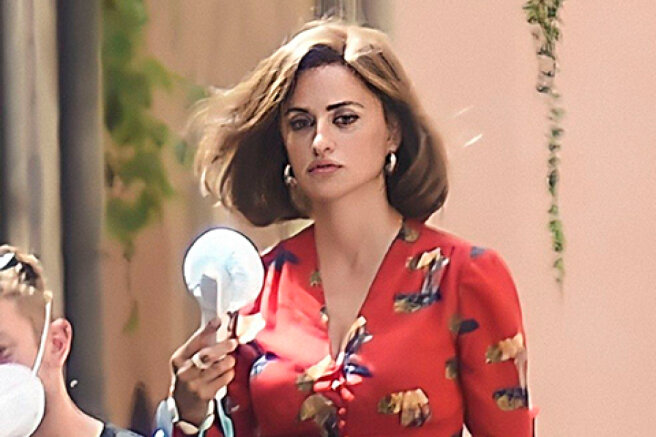 47-year-old Penelope Cruz has started shooting the film L'immensita by Italian director Emanuele Crialese, an Oscar nominee. The film is being shot in the town of Latina, located on the Mediterranean coast in Italy. Not far from this place, until recently, Penelope was vacationing with her family, but the filming of the film was interrupted by the actress's prolonged Italian vacation.  
Penelope, who plays the main role in the film, appeared in front of the cameras in a spectacular retro-style image. Cruz was wearing a red silk dress in the style of the 70s. A wicker bag and a neat hairstyle complemented the image of the actress.
Penelope Cruz got the role of a resident of Rome and the mother of the Clara family. The events of the film unfold in the Italian capital in the 70s, in a difficult period for Italy.
A world hovering between neighborhoods under construction and still black-and-white TV shows, new social achievements and old family models,
 - this is how director Emanuele Crialese described the atmosphere of his upcoming film in an interview with Variety.
L'immensita is a love story between Clara and her children,
- he noted earlier this year, planning the shooting.
Crialese noted that the character of Penelope demonstrates "an archetype that can only come to life through an artistic and human encounter with the sensitivity of such a great actress as Penelope Cruz."
In addition to Penelope Cruz, the film L'immensita stars Vincenzo Amato, Aurora Quattrocchi and Giuseppe Pattavina. Two films by Roman-born Emanuele Crialese — "The New World" and "The Mainland" - were nominated by Italy for the" Oscar " as the best foreign language films at the time. The release date of L'immensita has not yet been determined.
It is not the first time that Penelope Cruz has to play historical images. In the filmography of the Spanish star, there are many films where she plays the roles of characters from the past. For example, in the film "Open Arms" by Pedro Almodovar, the action partially takes place in the 90s.
By the way, a new film by Pedro Almodovaro with Penelope Cruz is being prepared for release — the film "Parallel Mothers"will be presented at the Venice Film Festival in September. The picture was included in the main competition of the festival.