Emilia Clarke has released a feminist comic "Mother of Madness" in support of the destigmatization of menstruation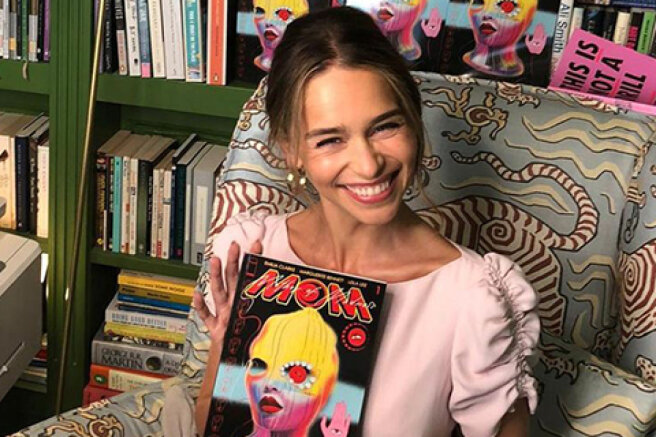 A few weeks ago, it was reported that 34-year-old actress Emilia Clarke, best known for her role as Daenerys Targaryen in the TV series "Game of Thrones", is going to release a comic book. Yesterday, the celebrity finally presented her work in a new genre for her.
The comic book is called "Mother of Madness" (M. O. M.: Mother Of Madness), in which you can also see a cute reference to her heroine from "Game of Thrones", who was called the Mother of Dragons.
In the center of the plot of the comic book, which was published by Image Comics, is a single mother Maya. During menstruation, a woman gains super strength: she can enlarge her breasts, become invisible, and even use her armpit hair in much the same way that Spider-Man used his spider thread.
On the cover, the superheroine, invented by Clarke, is depicted in a balaclava — this is a tribute to the band Pussy Riot. The co-author of Emilia was the writer Marguerite Bennett, and the author of the drawings was Leila Leitz. Yesterday, the actress appeared on the Jimmy Fallon show (she connected via video link) and told a little about her new project herself.
It was a simple idea that was born out of a stupid conversation that happened in the car on the way to a concert with friends. We thought: "Yeah, wouldn't it be funny if there was a superhero who wasn't perfect, who would be like us? I thought it would be funny. I went home and just wrote 50 pages, this character just came out of me,
Clarke shared.
Emilia clarified that she chose this particular plot because she wanted to contribute to the fight against the stigmatization of menstruation.
Maya had a difficult life, and she found herself in a place where she is ashamed of everything that makes her unique. Thanks to the discovery of her abilities, she accepts herself as she is. I thought it would be cool to show from the other side things that women don't like about themselves,
Clarke said.
The actress admitted that she had not yet thought about the possibility of a film adaptation of her comic book.
No, that's not why I wrote it. If it's stupid and no one likes it, then so be it — then there will be no film,
— she noted.
But Clarke confirmed that she will join the Marvel universe and take part in the filming of "Secret Invasion" (Secret Invasion).