Boat trip, waterfalls and barbecue: Milla Jovovich and Paul Anderson with their daughters had a fun day in Vancouver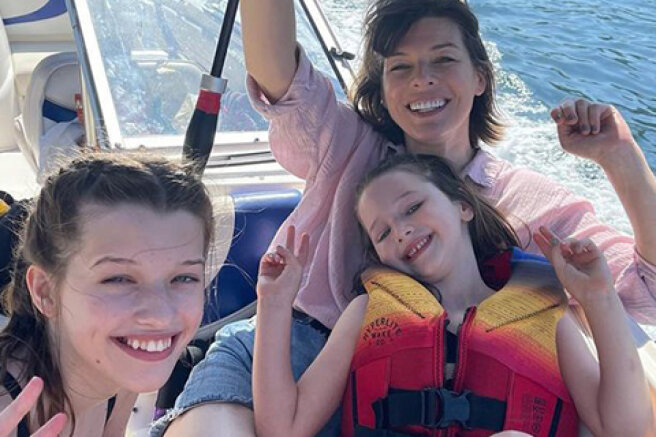 45-year-old Milla Jovovich shared another portion of family shots on her Instagram. The model and actress showed how she and her 56-year — old husband Paul Anderson and their two eldest daughters-13 — year-old Eva and six-year-old Dashiell-had fun in Canada.
The whole family went on a boat tour of the narrow Indian Arm fjord, which is located near Vancouver. Milla, Paul, Eva and Dashiell admired the views, swam at the waterfalls and barbecued right on the boat.
We had an incredible day when we took the children on a boat tour of the Indian Arm. We had a lot of fun finding beautiful places to swim at the waterfalls. There was even a barbecue on the boat, so my husband fried us some burgers right there on the water! It was a truly magical and unforgettable journey,
- Jovovich shared her emotions on her Instagram.
The eldest daughter of Milla and Paul has also already managed to talk about a family vacation on her Instagram. In the post, Eva clarified that their boat trip was timed to coincide with the end of filming of her new film "Peter Pan and Wendy", where the aspiring actress got the role of Wendy.
We celebrated the end of the filming of "Peter Pan and Wendy" in Vancouver with a boat trip to the Indian Arm. You will find even more videos about this day in my TikTok— " Eva told subscribers.
The youngest daughter Oshin, who was born in February last year, Milla and Paul did not take with them this time — apparently, the star parents decided that the girl was still too young for such extreme trips.
Recall that Milla Jovovich is sincerely happy about the success of her eldest daughter in the acting field. Milla emphasizes that Eva made her way into the film business thanks to her talent and diligence, and not to the connections of her mother-an actress and father-a director.
An old proverb says: "You can lead a horse to water, but you can't make him drink." If Eva wasn't extremely talented in her own right, no one would have made her into a movie solely because we are her parents. She really loves this business and thanks God that we are helping her to get around the traps that novice actors stumble into in this business,
- says Jovovich.