Kristen Stewart provoked rumors of an engagement with her lover Dylan Mayer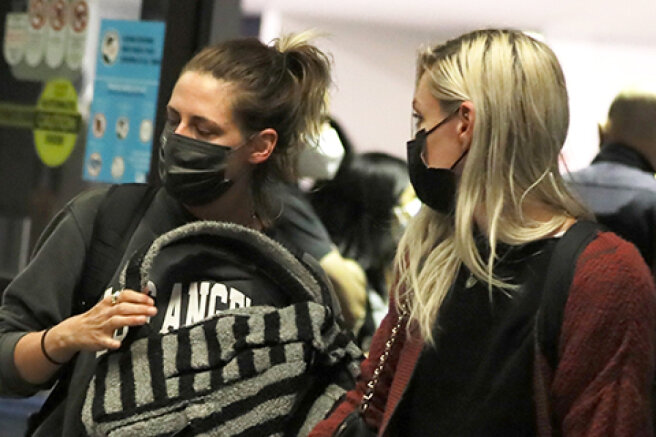 The relationship of 31-year-old Kristen Stewart and her lover Dylan Mayer seems to have reached a new level. These thoughts of fans and journalists were prompted by new photos of the star of "Twilight" with the screenwriter, which the paparazzi recently made at the Los Angeles airport.
Despite the fact that the star couple tried not to attract too much attention to themselves and tried to hide behind the powerful back of their bodyguard, the most attentive fans still saw the same rings on their ring fingers. Both girls wore jewelry on their left hands, which immediately gave rise to rumors about their possible engagement.
Kristen Stewart and Dylan Mayer have been together for about two years. For a long time, the girls were friends, and Kristen decided to admit her romantic feelings to Dylan only six years after they met. This is not the first experience of Stewart's relationship with girls: before that, she dated Stella Maxwell for several years, and after another breakup with her, the actress had a short affair with Sarah Dinkin.
Kristen declared serious intentions towards her current lover at the initial stage of their romance. In one of the interviews, she even said that she wanted to make a marriage proposal to Dylan, and thought about how it would be.
I can't fucking wait. I have a few ideas that I know will be the coolest solution. I want to make movies and have children with this girl. I can't believe I'm so lucky. I literally drew it in my dreams, and it turned out that it exists,
- she spoke fondly about Dylan Stewart.