Still over the moon: Emma Bunton shared a new photo from the wedding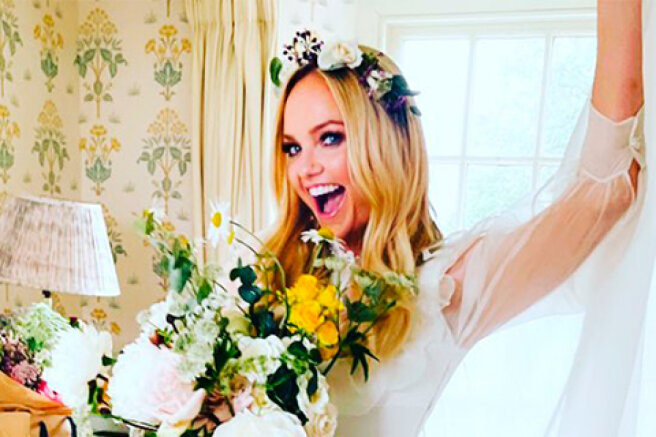 45-year-old Emma Bunton has published a new photo from her modest wedding with 42-year-old singer Jade Jones, whom she recently married after 23 years of marriage. In the picture, Emma simply radiates happiness.
Still in seventh heaven,
Emma captioned the picture.
The photo allows fans to get a better look at the Miu Miu wedding dress, in which the bride shone that day. The ex-soloist of the Spice Girls group chose a short dress with a long train and transparent voluminous sleeves for the ceremony. As a head accessory, Emma used fresh flowers woven into a delicate wreath. Daisies and peony-shaped roses also made up the bride's bouquet, which looked more like a freshly plucked armful of wild flowers.
Not without the traditional light curls in the style of Emma and hyper-volume eyelashes. As an addition to the image, the newly — born Mrs. Jones chose a playful garter-traditionally it is thrown to single wedding guests to determine who will marry next. The photo must have captured the moment of preparation for the ceremony, since Emma was photographed in the bathroom.
Ex - "peppercorn", and now a writer, Emma shared the happy news about the long-awaited wedding on Instagram for the first time on Tuesday. The first photo shows her with her new husband. Jade looked dapper and elegant at her own wedding in a spectacular Gucci jacket and a brown hat.
Emma and Jade have been together for more than 20 years. The singer once announced her engagement in 2011, but later expressed her reluctance to hold either a religious or a secular ceremony. The wedding was destined to take place only now. The couple has two sons: 13-year-old Beau and 10-year-old Tate.