Demi Lovato and Noah Cyrus have fueled rumors about their romance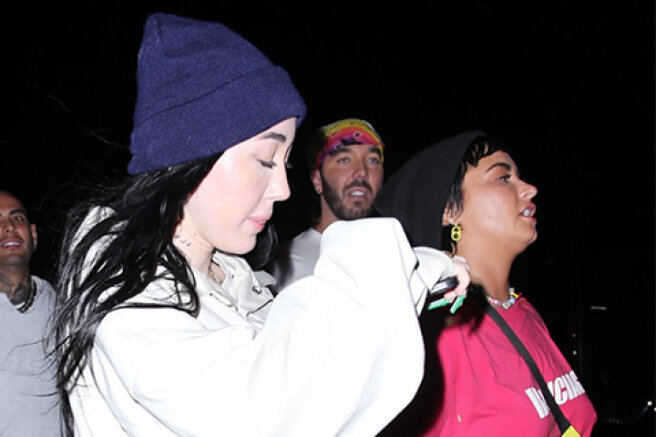 For several months now, there have been rumors about a romantic relationship between 28-year-old singer Demi Lovato and 21-year-old Noah Cyrus, the younger sister of Miley Cyrus, but there has been no confirmation of this. The other day, they fueled rumors that they were dating: paparazzi captured them holding hands. The two of them attended the premiere of the film Space Jam at the Space Mountain amusement park in California.
Demi at the event was dressed in a black beanie, a bright pink Balenciaga T-shirt and sports pants with a tai-dai print. The star complemented the image with a bright yellow bag, matching earrings and light sneakers with massive soles. Noah supported her friend's sporty style by wearing a white oversized hoodie, jeans with creative patches and a dark blue beanie.
Lovato and Cyrus became close while working together. They recorded together the song Easy for Lovato's project Dancing With the Devil... the Art of Starting Over, which was presented in early April. After that, they began to spend more and more time together.
They are very close,
- claimed one of the sources of the publication Page Six. At the same time, another insider noted that Lovato and Cyrus may go out together, but there is no romance between them. According to him, these are just "parties". The celebrities themselves have not previously commented on the rumors, keeping the intrigue.
Demi Lovato recently made important statements about herself. At the end of March, the singer announced that from that moment she identifies herself as a non-binary person (a person who does not consider himself either male or female gender. - Ed.) and asked to address her using the pronoun "they". In an interview, Demi called herself a pansexual, that is, a person who ignores gender differences.
In the Joe Rogan podcast, Lovato said that even as a child she felt sexual attraction to a woman, but then she suppressed it because she thought it was wrong. Lovato admitted that last year she broke off her engagement to actor Max Erich because she slept with a woman and realized that this experience was more pleasant for her than sex with a man.
Cyrus, for her part, had an unpleasant breakup with rapper Lil Xan in 2018.
By the way, Noah's older sister Miley also came out as a bisexual in June 2015, and also said that she does not have a gender. In August of the same year, she revealed that she was a pansexual.