Designer Michael Castello told how Chrissy Teigen almost drove him to suicide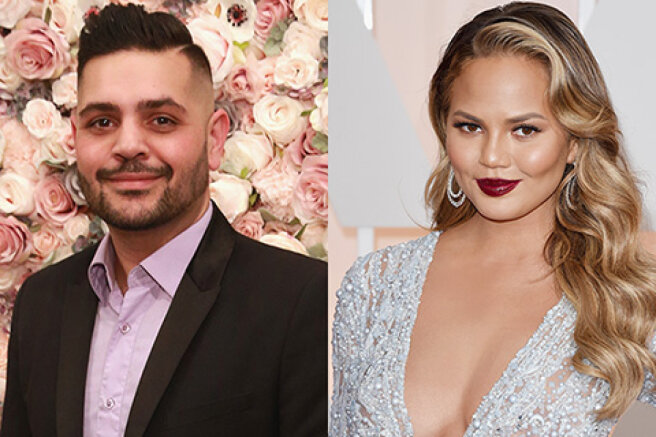 Designer Michael Castello, whose outfits were worn by Beyonce, Kim Kardashian and many other stars, told how because of the model Chrissy Teigen, he almost lost his job in the fashion industry and even almost committed suicide. He wrote about this in his Instagram.
I didn't want to do this, but I won't feel happy until I speak out. I need to heal, and to do that, I need to tell you what I've been through. I wanted to kill myself, and I'm still traumatized, depressed, and thinking about suicide,
he began his confession.
Castello, 38, said that in 2014 he received a public comment from Teigen, who accused him of racism. Then a picture of Castello allegedly using the intolerant N-word went viral. The fact of the photoshopping was proven, and Michael contacted Chrissie to report that he had been the victim of online defamation. However, Teigen did not apologize.
She told me that my career was over and that from now on, all doors would be closed to me,
- he wrote.
To his horror, after that, he really had big problems at work — many brands and people from the fashion industry refused to cooperate with him.
I regularly received messages and calls from our mutual friends and colleagues that she and Monica Rose, an influential fashion stylist, threatened people and brands that if they were somehow connected to me, they would not work with any of them,
Castello said.
He says he tried to get Teigen and Rose to listen to his story rather than believe the lies, but they wouldn't listen to him.
Castello admitted that then he had thoughts of committing suicide, as he lost the meaning of life.
There was no way I could stop being targeted by people in the powerful Hollywood elite who have the authority to shut all the doors on you with just one word. Not only was I the target of cyber-slander, but I was also blacklisted in real life,
"No," he admitted.
Castello noted that he never told anyone about this, because he did not have the opportunity to get out of this situation. But now he found the courage to do it.
Last week, I wrote personal letters to my family and closest friends because I thought taking my own life would be the best solution. No matter what I did, I simply couldn't influence the lies that Chrissy Teigen, Monica Rose, and their friends believed. I told my family how much I loved them, how much I cared for them, and how sorry I was for my decision. Since then, everyone in my family has been following me closely against my will,
— No, " he said.
Michael noted that he still hasn't recovered to this day, and also said that he doesn't want to hurt anyone.
I just want people to understand that I'm a human being, too. I experienced the most brutal treatment when decades of hard work, years of brand building, destroyed one comment. The people who bullied me could have contacted me at any time, but they refused. Instead, they would rather see me suffer and laugh at my demise. I still can't recover from the many years of trauma I went through. I'm not asking for your sympathy. I especially don't ask for sympathy from Chrissy Teigen, Monica Rose, or anyone who believed the false stories they heard about me. I just want to be free of it,
- he concluded.
To his post, he attached screenshots of correspondence with Teigen, in which he asked him to listen and said that the pictures with his comment on the network are photoshop. In response, Teigen calls him a racist and says that people like him deserve to die.
Your career is over, you'll see,
- she concludes.
Teigen has not yet publicly apologized to Castello, but before he told his story, she apologized to everyone she had ever trolled or offended online.
I was joking, making random observations. I used the new platforms to mock some celebrities. In fact, I was insecure and immature and in a world where I thought I needed to impress strangers in order to be accepted. I will not ask for your forgiveness, I only ask you to be tolerant and patient. I ask you to allow me to recognize past mistakes and to give me the opportunity to strive to become better and change,
— she wrote.