Love at first sight, stolen video, fights and scandals: The story of Pamela Anderson and Tommy Lee's relationship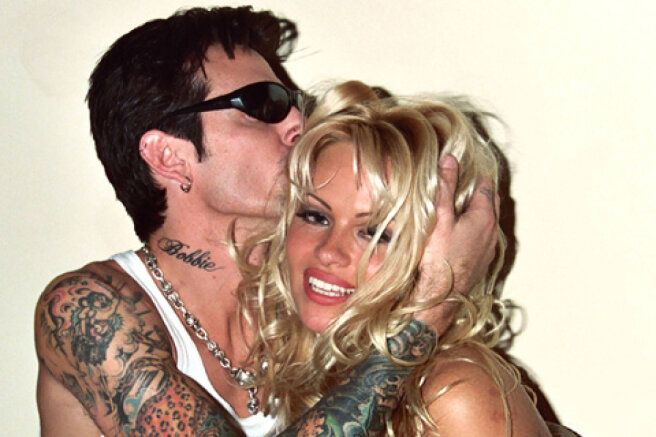 The premiere date of the Hulu mini-series "Pam and Tommy" has not even been announced yet, but the project can already be called a record-breaking discussion. It could not be otherwise, because the real Pamela Anderson (not at all thrilled with the fact that the series is being filmed about her) and her ex-husband Tommy Lee are one of the most extravagant couples in the history of show business. In anticipation of the series ' release, we decided to reconstruct the events and recall how Pam and Tommy's difficult relationship developed.
A 96-hour novel
In 1994, when Pamela and Tommy first met, she was already a recognized sex symbol, the star of the TV series "Rescuers of Malibu", the cover girl of Playboy. He was also considered "the worst guy in rock' n 'roll": the drummer Mötley Crüe had a scandalous reputation, his drug marathons, rampant parties and endless adventures with female fans were legendary.
And Tommy at that time was even more famous than Pamela: Mötley Crüe became famous in the early 80's, while Anderson first appeared on the cover of Playboy in 1989, which began her career in show business.
The rocker at the time of meeting with Pamela has already divorced twice (his second wife was the actress Heather Locklear, she filed for divorce because of infidelity, addiction and aggressiveness of the spouse). Anderson, on the other hand, has never been married.
The 27-year-old model and the 32-year-old musician met on New Year's Eve at the Los Angeles nightclub Sanctuary. And it was epic. Pamela described the acquaintance in a subsequent interview as follows:
He came over, grabbed me, and licked my face. I thought he was a cool, friendly, nice guy, so I gave him my number.
Interestingly, Tommy was not alone at the club, but with his fiancee-actress and model Bobbi Brown, who, by the way, according to her own words, was constantly confused with Anderson.
Tommy started calling, but he had to work hard to convince the blonde to go on a date with him. A month and a half later, he called her just as she was leaving for a photo shoot in Mexico and offered to accompany her. Anderson asked her new friend not to fly, but soon Tommy was waiting for her in Cancun-at the hotel where she was staying.
The rocker then had a big fight with Bobbi Brown: the girl moved out of his house after a frightening incident when he grabbed her by the neck out of jealousy. A few days later, Lee called her from Mexico and left a message on her answering machine about his vacation with Pamela and "the sex toys he brought with him." Bobbi then took the betrayal hard and became addicted to drugs.
The romance between Pam and Tommy began immediately, and it was impossible to stop the events. 96 hours after the meeting, the model and the musician... we exchanged our marriage vows on a Mexican beach. Ordinary wedding rings — this would be banal, so the newlyweds preferred tattoos. Pamela decided to put the name Tommy on the ring finger of her left hand, and Lee got a tattoo with the bride's name-not only on the finger, but also in another, more intimate place.
Then, when asked by reporters about the lack of a ring, Pam replied that, in her opinion, " the biggest diamonds are given by men with a big ego and a small manhood." After returning to Los Angeles, Pamela immediately moved in with Tommy. The tabloids were thrilled: from the very first day they spent together in Mexico, the famous couple became a favorite target for the paparazzi. Friends of celebrities, of course, were surprised so soon the wedding, but, however, no one doubted the sincerity of the feelings of the newlyweds. Insiders confirm: both were "100 percent madly in love."
Pamela admitted in an interview that she and Tommy shared not only passion, but also a peculiar sense of humor: for example, he could let his friends wear his wife's swimsuits and box in them, and Pam as one of the gifts presented her husband with size 42 high-heeled shoes — and he immediately tried them on.
Sex scandal and jealousy
Almost immediately after the wedding, rumors of scandals in the family began to spread. It was said that Lee is a real tyrant and is jealous of his wife for every post (sources from the couple's entourage confirm the rumors of jealousy, but note that this was quite a reasonable explanation, because every second person dreamed of Pamela Anderson at that time). It was said that in 1995, on the set of the film "Don't Call Me Baby", where Pam had the main role, her husband literally did not let her out of the trailer, because he was jealous of everyone.
Of course, Tommy and I had sex all the time in the trailer on that shoot. But it was a mutual desire, he didn't lock me up anywhere,
- the celebrity refuted the rumors.
In general, 1995 was not the most peaceful year for Anderson and Lee. First, Pamela lost a child — their first child. Secondly, there was a scandalous leak of personal photos and videos of the couple-naturally, very frank. This event, by the way, became the main theme of the mini-series, which will soon be presented by Hulu. Intimate polaroid images, as well as sex videos-all of which the couple took during their honeymoon and kept in a safe — became public.
We watched it once when we got home, and then we hid it in the safe.,
Tommy commented.
/11062021-pam-29.jpg">
Now stories with "stolen" materials and" hacked by hackers " gadgets of stars often look suspicious: often there are suspicions that celebrities themselves launch such scandals-for the sake of PR and media attention. However, in the case of Pam and Tommy, their friends all agree that the couple was really shocked and upset.
In 2014, Rolling Stone magazine published a long article detailing how the couple's personal materials were stolen by an electrician named Rand Gauthier, who worked at their Malibu mansion. According to the publication, the man had a conflict with the couple: Anderson and Lee were dissatisfied with the work and refused to pay him. And when Gauthier arrived to collect his tools, Tommy allegedly even threatened him with a gun, demanding that he get out of his house. And the employee (his role in the TV series "Pam and Tommy" went to Seth Rogen) so angry that he decided to take revenge on the musician-stole the tape and sold it to a distribution company.
The electrician planned the robbery for a couple of months, and managed to carry out his plan thanks to the fact that he knew perfectly well how the security system of the mansion works, and simply turned it off. Interestingly, Gauthier himself had experience shooting porn, so he immediately realized that the tape can bring a lot of money, and figured out what to do with it.
It didn't happen by their will. They had a giant safe the size of a refrigerator, and someone had broken in. It just killed them,
a source in the star circles told The Post.
Pamela and Tommy discovered the missing person only a few months later, they went to the police and hired a private investigator, but the distribution of scandalous footage at that time was already in full swing. The Internet was poorly developed at that time, but video pirates used it to create several sites through which they could purchase a recording called "Pam and Tommy Lee: the stolen Honeymoon" — it was sent to those who wanted it by mail for $ 59.95. The characters of the video tried for a long time to get a ban on the distribution of personal videos through the court and eventually signed an agreement with the distribution company a few years later, and the record continued to be distributed, but already legally - on DVD, VHS cassettes and CD. According to press estimates, distribution companies earned $ 100 million on that video (and this is only legal sales!). However, Lee and Anderson themselves claim that they did not profit from their sensational video.
We can say that the couple set the trend: subsequently, the public saw recordings from the home video archive of Paris Hilton, then Kim Kardashian, and now this is not particularly surprising to anyone. Sex videos of Tommy and Pamela, by the way, are now easy to find on "thematic" sites and watch for free.
Divorce and prison
In June 1996, Pamela and Tommy had their first child, Brandon, and in December 1997, their youngest son, Dylan, was born. The birth of children affects each couple in its own way: the union of Anderson and Lee did not strengthen these events. The rocker himself later admitted:
When Dylan was born, I was the number three in the family. It was hard for me to get used to it.
According to Tommy, he was well aware that at that time he had turned into a "capricious, demanding brat". In his autobiography, he writes:
Perhaps this was my way of trying to become Pamela's "third child", so that I could get the attention I needed from her. We started to fight more and more.
The relationship slowly shifted from pure love to love-hate. However, even before the birth of the second child, something went wrong: as it turned out, Pamela first filed for divorce in November 1996, but then the couple managed to reconcile. Tommy Lee told me:
Pamela and I had children so quickly that we just didn't have time to build a strong relationship. Much later, I asked her why we didn't work on them, and she said: "There was no time, I was pregnant all the time."
Scandals happened often — with shouting and breaking dishes, often in front of children who were still very young. The crisis in the relationship escalated in 1998, when one of the quarrels in the house of Tommy and Pam came to a physical assault. Anderson called the police, and the musician was taken outside in handcuffs. Later, when asked by reporters about the case, Lee replied that nothing serious had happened. However, the case file says about the bruises on Pamela's body.
Shortly after the incident, the star of "Rescuers of Malibu" filed for divorce. Tommy was sentenced to six months in prison by the court. He was also given 200 hours of correctional labor, a visit to a psychologist and a fine of $ 6,200, which was given to a fund that helped women victims of domestic violence.
As she left the courthouse, Pam spoke to reporters:
I'm very proud of Tommy. I'm happy that he's willing to take responsibility for all of this. And I think this is the first step to healing.
For Tommy himself, by the way, it was an unpleasant surprise that his wife brought the case to court. In his book years later, he recalled:
I couldn't understand why Pamela had made these accusations. Maybe she was scared and thought I was some crazy dangerous monster. She probably thought it would be better for the children. And, probably, she was trying to find an easy way out of a difficult situation.
Attempts and failures
It is not so difficult to guess what exactly caused the breakup. Friends of Pamela say that, according to the stories of the celebrity, Tommy suffered from alcoholism during their marriage and completely lost self-control — to the point that he could urinate in bed. It was the addiction, according to Anderson, that led to the breakup.
I tortured myself for years and was depressed because of this relationship. I guess I just wanted to be with someone, start a family. But the people I was attracted to weren't from the fairy tale I'd dreamed of,
- Pamela later recalled her relationship with her ex-husband.
Attempts at reconciliation after parting with them happenedand they have repeatedly: for example, in 1999, Anderson said that she imagines her old age next to Tommy. And in 2000, they celebrated the New Year together. In those years, Lee admitted that he and his ex-wife liked being just friends even more than staying married.
We co-exist perfectly and raise our children together, go to our sons ' football matches, go swimming, and have barbecue parties. There is no pressure like in a marriage, which pleases me. Divorce, custody courts-all this can cause serious damage to the relationship. But it seems that we have already been through everything and now we can live our lives, enjoy communicating with each other and the children.
In 2005, Lee announced to reporters that he and his ex-wife were "madly in love", and expressed a desire to be one family again — although Anderson denied information about the resumption of the novel. But when Pam got ready to marry Kid Rock in 2006, Tommy was far from thrilled. At that time, she tried to get full custody of her sons through the court and stated in court documents:
I suspect that Tommy's jealousy about my new relationship caused him to become furious, angry, which led to the termination of communication and joint care of the children.
A decade after their divorce, in 2008, Pamela, then separated from her third husband Rick Salomon, and Tommy Lee tried to give the relationship another chance — "attempt number 801", as the musician told the press. He said that the ex-wife and her sons moved in with him, and everyone is happy. But two years later, the union broke up again, Pam returned to Salomon, married him a second time, and quickly divorced.
When asked by reporters about the numerous breakups with Tommy and regular attempts to save the relationship, Anderson answered:
He was the love of my life. Our relationship was wild and crazy, and it was too much for both of us... It's love at first sight. I only knew him for four days before I married him. We have beautiful children, they are happy that they were born as a result of true love.
Relationships now
In 2018, Tommy Lee, then 56, got into a fight with his own son Brandon, who was 21 at the time. The rocker himself posted a photo of a broken lip with a comment that his son hit him. Brandon, in turn, said: my father was very drunk, I had to use force. Brandon himself, by the way, also struggled with alcohol addiction at one time.
Pamela Anderson responded to the incident by posting a post on her website titled "Alcoholism is the devil." In it, she wrote:
I pray that Tommy gets the help he needs. His actions are desperate and shameful, he simply does not control himself and does not behave like a father-however, this is not news. My sons have tried their best to help him in the last few months, and have been there to make sure he's okay... I'm not going to talk to Tommy again until he's sober enough to get his mind back on track. He tried to contact me, but I blocked him, it is impossible to negotiate with a madman... Brandon risked everything to save his father. And for him, a career is very important, he does not touch alcohol and drugs, understanding his genetics, and this can serve as an example for many... He hit my father for what he did to all of us.
How Tommy Lee is now doing with sobriety, the press does not report, but in October 2020, he mentioned in an interview that he has not drunk at all for a year.
After her divorce from Tommy, Pamela married several more times: in 2006, to the musician Kid Rock, a year later to Rick Salomon, with whom she re-formed a relationship in 2014. Last year, there was a rather strange story with the hasty marriage of Pam and her long-time friend John Peters. And in early 2021, it became known that the model married for the sixth time — for her bodyguard Dan Hayhurst. The tattoo with the name Tommy, by the way, she has long since changed to mommy ("mommy").
As for Tommy Lee, he has been married since 2019 to blogger Brittany Furlan, who is 24 years younger than him. A couple of years ago, the musician was outraged about Pamela's statements about him and wrote on Twitter that his ex-wife "has nothing to talk about in an interview, so she still discusses all the nonsense that happened a hundred years ago to attract attention."
It is not known what the current relationship between the former spouses is. On Instagram, Tommy and Pamela are not subscribed to each other, but the rocker's sons Brandon and Dylan are friends. However, knowing the history of the couple, we will not be surprised if it is too early to put an end to the timeline of Pam and Tommy's relationship.