Jennifer Aniston and David Schwimmer admitted that they were in love with each other on the set of the first season of "Friends"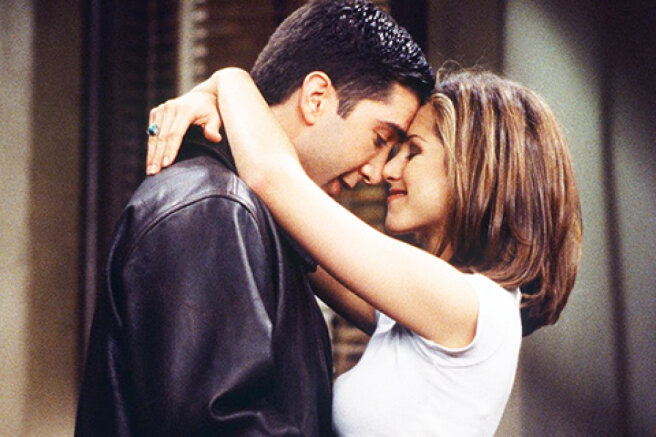 Today, the long-awaited special episode of the cult TV series "Friends", which fans have been discussing for more than a year, will be released on the HBO Max platform. The network has already appeared some excerpts from the release, in which the actors of the series share their revelations.
So, during a conversation with the performers of the roles of the key characters of the show, the host James Corden was surprised that none of the cast had an affair behind the scenes. In response, he received an unexpected confession from David Schwimmer, who played Ross Geller in "Friends": he said that he was really in love with his screen partner Jennifer Aniston (she is known to the audience for the role of Rachel Green). Aniston was not at a loss and admitted that the feeling was mutual.
I was very much in love with Jen during the filming of the first season. At one point, we became so involved with each other that we were like two ships constantly passing each other. The problem was that one of us was constantly in a relationship, so we never crossed that line,
David said.
Aniston added that she and Schwimmer even often joked about their mutual liking: for example, Jennifer was amused that their first kiss with David would happen right in front of millions of viewers:
I remember saying to David, " It's going to be such a bummer that our first real kiss is going to be on national television." As a result, we kissed for the first time in the same cafe on the set. We just directed all our tender feelings for each other to our characters.
The fact that none of the cast noticed the spark that ignited between Jennifer and David on the set, they are still genuinely surprised. According to Aniston and Schwimmer, they did not even try to hide their feelings for each other and always looked for an excuse to get closer even behind the scenes.
I remembered how the first year or two, during breaks in rehearsal, we could cuddle on the couch or do something like that,
Schwimmer said.
We often lay down and fell asleep together on this sofa,
Aniston added.
How did no one notice that we were in love with each other?!
David asked.
At the same time, Courteney Cox, who played Ross ' sister Monica Geller in the series, admitted that they, of course, knew about everything, but preferred not to embarrass colleagues with their jokes about it.
By the way, if before watching the special episode you want to refresh your memory a little of the events that took place in the series, it's time to take our test about the complicated relationship of Ross and Rachel — fans followed them with trepidation and interest throughout all 10 seasons!