Opera singer Veronika Dzhioeva spoke about the struggle for her daughter with her ex-husband: "The mother was deprived of the child, and alimony was also appointed"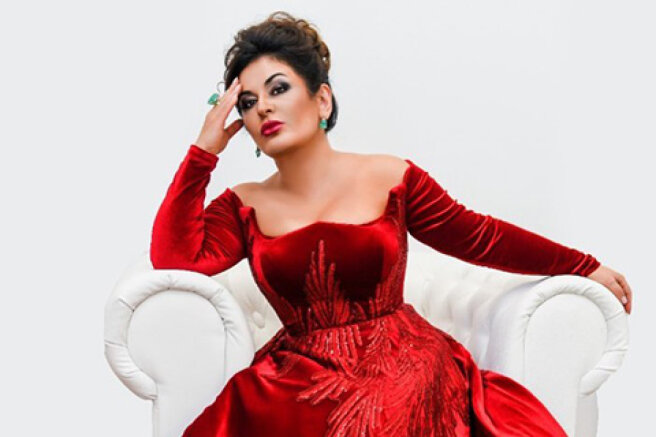 The telegram channel "Antiglyanets" published a post dedicated to a high-profile story that happens to an opera singer, Honored Artist of the Russian Federation, an international star and a guest soloist of the Bolshoi Theater Veronika Dzhioeva.
With the conductor Alim Shakhmetiev, whom Veronika married on her own head without love on the advice of her beloved teacher, she divorced in 2015. The marriage did not work out - to take at least such a nice detail mentioned by Dzhioeva that Shakhmetyev asked his wife to make a duplicate credit card and took her entire salary to zero, "so as not to squander it." The singer's career went up, the husbands dragged behind, somehow Shakhmetyev worked as the director of his wife, and behind his back he set his own condition: Dzhioeva sings only with his conductor, Shakhmetyev.
Once Alim asked his ex-wife to sign a paper stating that she was not against the residence of her daughter Adriana with her father in St. Petersburg. Like, "you're on tour, and it will be easier for me to solve everyday problems." Veronica would have been worried, especially since the familiar lawyer warned that the former would be able to file for alimony - but did not insist, and Dzhioeva signed. The ex-husband stopped giving Dzhioeva documents to his daughter ("asks the child if she wants him to give"). I found a woman in St. Petersburg, and decided to make Adriana a new mother out of her. The always affectionate eight-year-old girl behaves with Veronica in a detached and even evil way, her brother, Veronica's first child, "does not love" ("it's a nightmare for our Ossetian family, he does not teach her to love her mother, grandmother"), and demands "to give daddy half the money ".
- wrote in "Antigliantsa".
A bastard and a manipulator. He was kicked out of all theaters and philharmonic societies long ago, in our world he is not shaking hands,
Veronica said when the admins of the telegram channel contacted her. According to rumors, Shakhmetyev was fired from the Novosibirsk Philharmonic for trying to quarrel with colleagues.
He showed one the text message that the other had written about him. But Alim is one of those who "softly lays", everything is a favor for a favor. He helped a flutist with a child get a job in Prague in exchange for a recommendation to the orchestra, which is managed by a friend of Dzhioeva, so the efforts were in vain.
Now Alim is filing for alimony, demanding a quarter of his ex-wife's earnings - and this is when life is especially hard for our artists, and Dzhioeva helps relatives in Ossetia, not forgetting to buy her daughter the last iPhone. Courts? Of course.
— says "Anti-gloss".
The judge doesn't even listen to us. Useless. Like a psychiatric examination, a real torment for Adriana - the doctors saw that she was running to her mother for food, water, because her father did not care, but they did not care. I know who helps Shakhmetyev, renders him services in return. But what to do - I don't know at all, but I must return the child,
- describes the situation Dzhioeva. The singer spoke about what was happening on her pages in social networks:
She is so set up that hands down, whether she will change or become the same as before. Cold, often rude, does not like her mother's caresses, because the stepmother and father are completely opposite. Everyone in my family is affectionate, and so was Adriana. He still does not want to communicate with his grandmother, grandfather and his relatives. But relatives and loved ones are familiar stepmothers. The bailiffs have also caught up. We just want to take something away. The mother was deprived of the child, and alimony was also appointed. I'll tell you how it is: there are thoughts of leaving the country forever, since there is neither the strength nor the desire to work as laborers for two idlers! The "skunk" won the first instance (so we call it among ourselves). Of course, there were people who helped him, for which he follows orders. I know who helped. Skunk knows how many people I need and how many I help. But such people who have never helped anyone, they cannot understand. Just decided to strip me of everything.
My child grows up where there is no love, where there is a lie, where there is unsanitary conditions, and when my daughter grows up, she will consider that living like this is the norm when a "man" applies for alimony. One dream I have now is that, God forbid, she will come across such a person. How suddenly he became a "caring father"! I used to come to her for 10 minutes maximum, I couldn't stand it anymore. My mother was very surprised by this. I would like to warn everyone who has not yet encountered such evil spirits: please be extremely careful. Despite the fact that I am a very cautious person, I made a mistake once, and very big.
- such a post appeared on Instagram * Dzhioeva two days ago.
For us, a situation in which the father has neither his own home nor income, and the wife has money, real estate, no obstacles and bad habits, but the court does not give the child to the mother is unthinkable. However, it has become quite common lately. Klyukin, Sarkisov, Shakhmetiev - what kind of male lobby do you have there? A terrible shame
- summed up "Anti-gloss".
Veronika Dzhioeva spends most of her time in Prague, while her daughter Adriana with her father, ex-conductor of the Philharmonic Chamber Orchestra Alim Shakhmametyev and his new lover also live in the Czech capital. Veronica was supported by her colleague on the opera stage Khibla Gerzmava:
This is the first time I write about this, but in this case I think that it is no longer possible to remain silent. Veronika's ex-husband, conductor Alim Shakhmametyev, is trying through the Kuibyshev court in St. Petersburg to take away the right to live with the child's mother! How can this be? He sued for alimony! Veronica has to pay child support to an adult man who lives with another woman. Just think about it!
Hibla wrote on Instagram*.
*Instagram is owned by Meta, a recognized extremist organization in the Russian Federation