Protests, subscriptions, sex: the group "DDT" released a video "Not with you" about the young generation that lives "for love"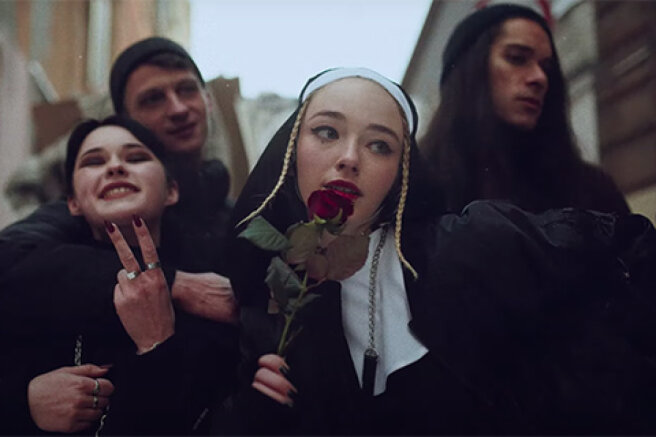 The group "DDT" presented a new video for the song "Not with you". The premiere took place today on the band's YouTube channel. The video lasts 10 minutes and begins with frames in which a tipsy man talks about the "defective" new generation, which "lives one day", tries a variety of activities, "like apples." The character accuses modern youth, including his children, of irresponsibility: "They have everything in one day, but it was the same with us: you took it, chose it - so be patient, like it, don't like it - be patient." In response, his 17-year-old opponent says that his generation "lives for love."
The characters of the clip are young people who have fun at the party, participate in protests, run away from the police and have sex. In the chorus, the leader of the group, Yuri Shevchuk, sings:
To make it more fun and not at all scary, Put it on a chain, pump it up with money, Pull out your teeth so that it becomes not dangerous, Anyway, I will never be with you.
In the finale, it turns out that the same "fathers" from the beginning of the video are security officials, and the main character ends up in a military educational institution.
The clip includes real photos of young people, including from protests.
The song was included in the 21st studio album "DDT" called "Creativity in the Void", released in the fall of 2021.
Yuri Shevchuk openly opposes the special military operation of the Russian Federation in Ukraine from the very beginning. In March, the team presented the song "Little Death" based on the events. In May, a protocol was drawn up against the musician about discrediting the Armed Forces of the Russian Federation after his speech at a concert in Ufa: the musician from the stage expressed a negative attitude towards the special operation.
In early June, the group announced that the concert in Moscow, dedicated to the 40th anniversary of "DDT", was postponed to June 2023, since the mayor's office of the capital did not give permission to hold it.