Anna Wintour took a selfie for the first time — with Kim Kardashian. In the network , the picture was criticized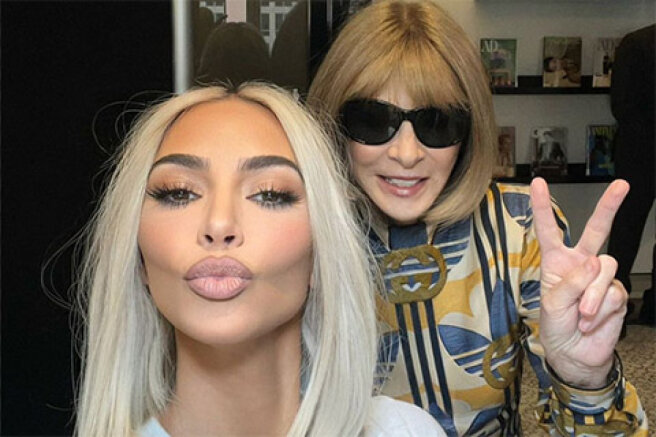 Today, everyone on the web is discussing a new joint photo of Kim Kardashian and Anna Wintour, which appeared on Instagram* of American Vogue. And not just a photo, but the first official selfie of Wintour — the legendary editor-in-chief of Vogue has repeatedly expressed her contempt for such a format.
During an interview for the column "73 questions with..." for her magazine, Anna refused to take a selfie and said:
I've never taken a selfie and I don't plan to start now.
In 2015, Wintour even banned taking selfies during the official part of the Met Gala (although not all celebrities heeded the ban — Kim Kardashian was among the violators, by the way).
The photo is noteworthy not only for the fact that the editor—in-chief of Vogue violated her own principles - Anna is also smiling broadly in the picture, which is also rarely seen.
However, not all subscribers of the fashion magazine account were delighted with this "premiere". Many criticized Wintour for the fact that she is now so supportive of Kim, whom she disliked for many years (the magazine also published material about Kim's new care cosmetics).
I thought Anna didn't take selfies,
— user @zhengtonny wrote.
Oh, Anna, I expected more from you,
— user @abiwarden wrote.
Stop this madness,
— user @suziqusi asked.
Isn't her [Kim's] skin care about plastic surgery?
— user favoredson777 was surprised.
I wonder whose historical dress she will destroy next,
— asked the user @bobbyswickedstitches, recalling the recent scandal with the damage to the dress of Marilyn Monroe, which Kim wore.
You should be ashamed to praise this destroyer of fashion history,
— user luciogjr agreed.
That's why now great artists only go to British Vogue,
— stated user @sandalwoodii.
Kim Kardashian also posted a photo on her Instagram*, emphasizing the similarity of her new hairstyle with Anna's iconic styling, which she has not changed for decades.
Twins with bob,
— she wrote.
Kardashian's followers took the photo with great enthusiasm and did not skimp on likes and hearts in the comments.
Kim first appeared in Vogue in 2014 — the cover was dedicated to her wedding to Kanye West. A few years before, insiders assured that "while Anna Wintour is at the helm, you won't see Kim in Vogue."
*Instagram is owned by Meta, a recognized extremist organization in the Russian Federation