The network is discussing new damage to Marilyn Monroe's dress. Subscribers criticize Kim Kardashian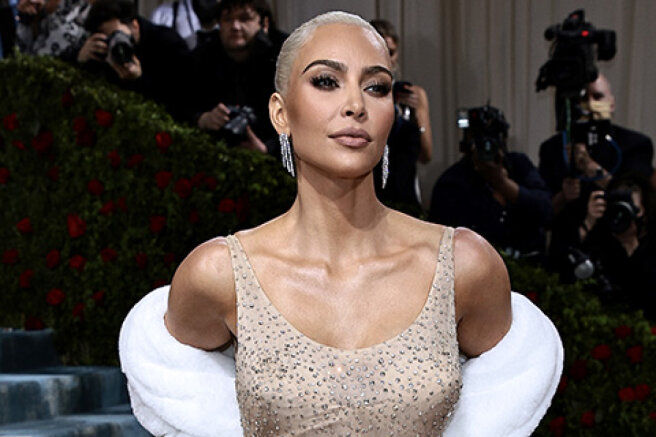 Photos with new damages on the iconic Marilyn Monroe dress have appeared online after Kim Kardashian rented it for the Met Gala. As it turned out, the dress is not only missing a few crystals and the fabric is frayed, but also the strap is torn.
This news angered netizens who criticized Kim Kardashian and even offered to sue her. Is it possible to sue Kardashian for ruining her dress?
It's disgusting. I'm so upset that she ruined a beautiful piece of history created for only one queen—for Marilyn.
She tried to make history by associating herself with Marilyn Monroe. But she will go down in history as a selfish person who destroyed one of the most valuable assets of Marilyn Monroe in order to attract attention to herself," users write on Instagram*.
It was not only Kim herself who faced criticism — users condemned the museum staff, who allowed Kardashian to wear a dress for a lot of money.
Kim Kardashian found herself in the spotlight at the Met Gala when she wore the famous Marilyn Monroe dress, in which the star performed the song Happy Birthday, Mr. President to John Kennedy.
In order to go on the red carpet in this dress, Kim Kardashian lost seven kilograms in three weeks with the help of a strict diet, for which she was condemned by supporters of the body positive. However, Kim could not fasten the dress to the end — at the event she put on a fur cape to hide it.
Many in social networks also sided with Kim, noting that all the damage on the dress was discovered only a month after the lease: Kim is accused of ruining the legendary outfit — crystals were missing, the fabric was worn out, there were holes and protruding threads. Now the museum staff is talking about disrespect for the historical costume, and Kim, of course, will be attacked now. But it seems strange to me to rent a "historical costume" at first, to take a lot of money for insurance — and only after a month to be outraged that it was spoiled. It's just snobbery. Surely Kardashian would have paid a penalty anyway, but this ostentatious spanking is just another attempt to throw mud at her," writes telegram channel Aleko.
Kim Kardashian herself did not comment on the scandal, despite criticism from subscribers in social networks.
*Instagram belongs to Meta, a recognized extremist organization in the Russian Federation