Kourtney Kardashian and Travis Barker shared new photos from the wedding. The musician's ex-wife auctioned an engagement ring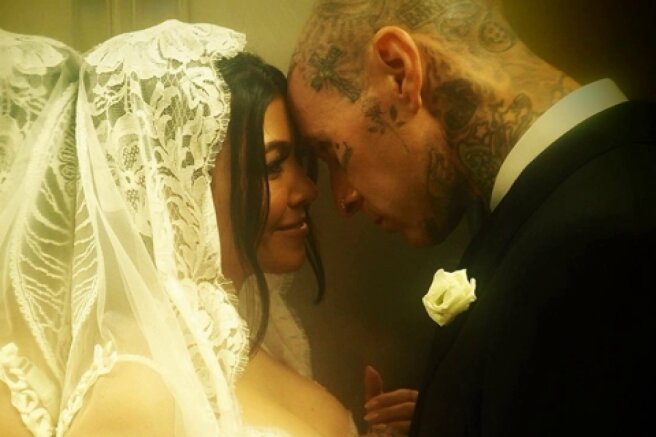 Kourtney Kardashian and Travis Barker, who recently got married, shared new photos taken on the day of the celebration — unlike those that the couple posted on social networks initially, these pictures look much more intimate.
Recall that the wedding, which was rumored to be sponsored by the Italian fashion house Dolce & Gabbana, was held in Portofino. The ceremony caused a heated discussion on the web, largely because of the image of the bride - Courtney walked down the aisle in a white mini—dress, which many considered too revealing, and a long lace veil with the image of the Virgin Mary.
Earlier, Courtney and Travis had already officially registered their marriage in a narrow family circle in Santa Barbara, and before that they arranged a "training wedding" in one of the chapels of Las Vegas, where they were engaged to an Elvis Presley lookalike.
Meanwhile, the ex-wife of Blink-182 drummer Shanna Moakler auctioned off an engagement ring that Travis gave her.
This chapter of my life is over, and even though it gave me pleasure to wear that ring from time to time, I hope it will find a new home and bring someone as much happiness as it once brought me,
She said in an interview with US Weekly.
The auction has already started, it will be held until May 31. The starting price of the ring is 51 thousand dollars, but Shanna expects to get an amount for it close to its original cost (160 thousand dollars).