Model Ashley Morgan Smithline spoke about the violence at the hands of Marilyn Manson: "The scariest monster"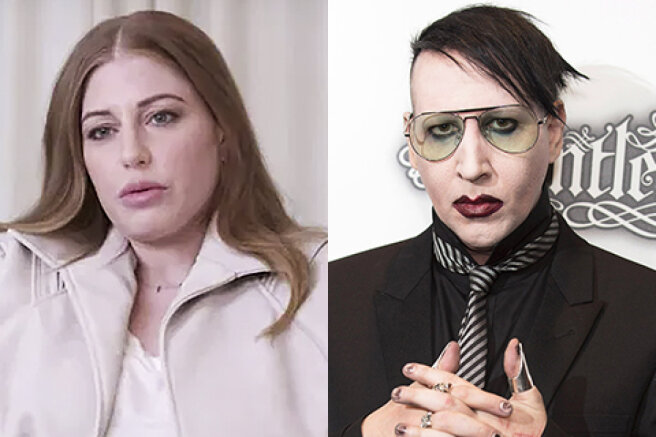 To date, 15 women have accused 52-year-old Marilyn Manson of severe psychological and sexual abuse. Among them were his ex-lover Evan Rachel Wood, singer Phoebe Bridgers, Game of Thrones star Esme Bianco, and many others. The alleged victim of the rock musician is also model Ashley Morgan Smithline. She first spoke about Manson's abuse in February of this year, and recently gave a candid interview to People, in which she shared details of their relationship.
Ashley said that they met Marilyn in the summer of 2010, when she was working as a model in Asia. Then Manson contacted her to offer a role in one of the films, and Smithline happily agreed. The model said that very quickly she began to feel a deep connection with the musician, and admitted that he won her over with his intelligence.
Marilyn and Ashley began to exchange text messages, and in November 2010, she flew to him in Los Angeles. The rocker began to show aggression already during the filming. Then, according to the model, he whipped her on her bare back, lied to her about the time of day and forced her to work until dawn. After some time, the physical abuse turned into sexual abuse. Somehow, Ashley woke up and realized that her hands were tied. Then Marilyn had sex with her against her will while she was still asleep.
He kept telling me, "You can't rape someone you're in love with."",
"that's how Manson, according to Ashley, justified his actions.
Smithline also said that Marilyn once carved his initials with a knife on her thigh. The scars from this wound still remind the model of the experience of violence.
I've been brainwashed, and that fact makes me feel disgusting,
Ashley admits.
Smithline said in an interview that they once made a "blood pact" with Manson: he allegedly made a cut on her stomach and drank blood from there, and then forced the girl to do the same with him. Ashley said that Marilyn often locked her in the "bad girl room" — a glass cube installed in his room, which was previously mentioned by other alleged victims of the rocker. According to the model, she has visited this room at least 100 times.
Ashley also said that once during another rape, Manson broke her nose, and once threw a knife at her across the room, only narrowly missing her. According to the girl, Marilyn was always under the influence of alcohol and drugs.
At one point, I asked him, " Do you want me to kill myself? To just kill herself?"
- Smithline recalls those terrible episodes from his life.
Ashley claims that she tried to leave her tormentor several times, but each time she returned because she was emotionally dependent on him. Their relationship, according to the model, continued until January 2013.
Ashley was able to tell the world about this only after meeting Evan Rachel Wood, Esme Bianco and other alleged victims of the rocker. Then she realized that she was not alone, and she stopped feeling shame and guilt. At the same time, Smithline still suffers from nightmares and PTSD. She hopes her revelations will help stop "the world's scariest monster."
I'm not a victim. I'm a fucking survivor! I want all people to know who he is. My revelations are worth it so that no other woman gets hurt," says Ashley.
Earlier, representatives of Marilyn Manson denied the accusations of the model against their client. According to the musician's lawyers, there are too many lies in Smithline's statements. In addition, they said that Manson and Smithline's relationship did not last more than a week, while she claimed that the abuse continued for about two years.
Recall that now the investigation of the case of Marilyn Manson is engaged in law enforcement agencies. After numerous accusations against the rock musician, they are going to meet with his alleged victims and decide on the need for further investigation of this case.