Kate Middleton and Prince William celebrate 10 years since their wedding: the best jokes and funniest moments from the couple's life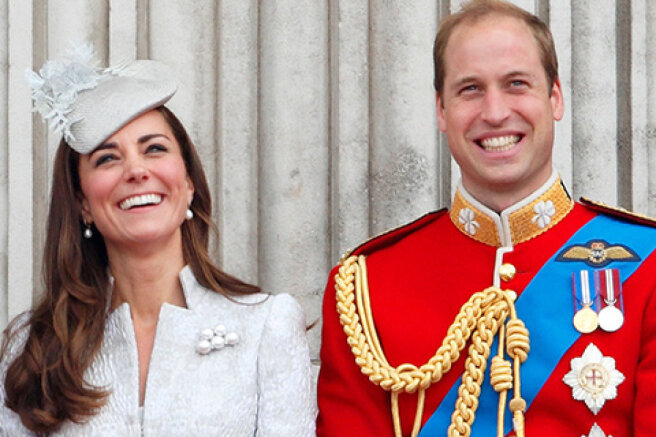 They say that a sense of humor, especially if it is similar, is the secret to a long and happy marriage. Kate Middleton and Prince William have been married for 10 years and, despite the fact that their status and position in society do not imply frivolous or frivolous behavior in public, sometimes they can not resist making fun of each other. Today, on the anniversary of the wedding of the Dukes of Cambridge, we remember the most funny moments from their lives.
Prince William poster on Kate's wall
In an interview that followed the couple's engagement announcement, journalist Tom Bradby asked if it was true that Kate once had a poster of Prince William on her bedroom wall. Kate immediately laughed it off.
He would have liked it to be true. But no, there was a poster of the Levi's guy in my bedroom, not a picture of William. Excuse me,
— No, " she said.
Kate's artistic skills
During the World Mental Health Summit in October 2018, the Duchess showed off an unexpected talent when Colombian artist Dario Vargas asked her if she would like to contribute to a painting he was creating. Kate did not fade away and, picking up a brush, added some paint to the canvas. Prince William did not appreciate his wife's artistic abilities.
This pretty much messed up the picture,
- he noted.
Kate Middleton's culinary talent
Kate Middleton has often said that she sometimes cooks with her children. Whether they like their mother's cooking, they will probably tell you when they are a little older, but Prince William is not happy with his wife's culinary skills. When the Duchess noted at a meeting with the chefs at the Taste of Norfolk charity event in aid of the children's hospice that her husband had to put up with what she was cooking, William did not deny it.
That's why I'm so thin,
— No, " he said.
Prince William's "Bad Habit"
At the opening of a recreational area at a UK military base in Cyprus in December 2018, Prince William warned soldiers to keep pizza away from sofas. William himself, it seems, does not mind sometimes lying on the couch at home with a slice of pizza, which causes Kate indignation and indignation.It's just a nightmare!
— she said about her husband.
Kate Middleton and her " camouflage outfit"
At the same event, William did not fail to make fun of his wife. During a joint photo with the military against the background of a Christmas tree, he touched on his wife's outfit.
My wife disguised herself as a tree,
— No, " he said.
Prince William's teenage behavior
During a visit to one of the schools in 2016, Prince William told students and their parents about his childhood. So, he admitted that he still sometimes feels like a teenager.
Sometimes I feel like I'm 16. Honestly, sometimes I still act like I'm 16,
- he noted.
These words of her husband were immediately confirmed by Kate Middleton.
I still think you're 16,
"I'm sorry," she said.
Prince William and his bald head
At the royal Easter Show at Sydney Olympic Park in 2014, the Dukes of Cambridge witnessed an alpaca haircut. When they were handed a piece of the animal's fur, Kate suggested that her husband put it on his head.
You need it more than I do.,
she said with a laugh, pointing at his bald head.
"Indecent behavior" by Kate Middleton
In 2015Kate Middleton and Prince William took part in a charity event of the brokerage company ICAP and answered calls, concluding deals between large companies.
William overheard his wife talking to a man named Andrew, and felt that their conversation was too informal.
Catherine, I think it's time for you to stop flirting.,
— No, " he said. Then he turned to the broker and raised an eyebrow.:
I'm sorry, my wife discouraged me.
Kate Middleton and the Relationship Test
During a visit to North Wales in 2015, Kate and William decided to try rock climbing. As William descended the 12-meter-high wall, Kate stood at the top, holding his rope. Then Prince William decided to ask how securely his wife holds him.
Are you holding me?
— What is it? " he asked her.
Kate answered in the affirmative, and then added:
In fact, I like it — this time I'm in control of the situation,
— No, " she said.
And as he started down the stairs, Kate asked him how much he loved her. We must think that the answer was at least "more life".
Well, this is just a few photo evidence that Kate and William are never bored with each other.
t Middleton and Prince William">