The network is joking about Kendall Jenner: she tried to slice a cucumber, but couldn't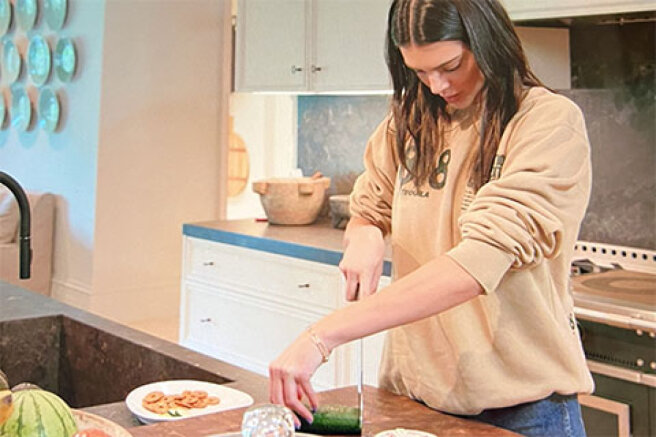 Model Kendall Jenner feels confident on the catwalk and film sets, but in the kitchen, the star seems to need support. The network is discussing an excerpt from a new episode of the reality show The Kardashians, during which Kendall unsuccessfully tries to slice a cucumber. The model is clearly confused and does not know how to approach the vegetable.
I'm a little scared. I'm not the best carver, don't show it up close. I'm not a professional,
— Kendall comments on the process of slicing cucumber.
At one point, her mom Kris Jenner even calls her chef for help, but Kendall refuses and says she can handle it.
The episode immediately went viral on the network, and Twitter users* began to actively troll the model.
Kendall Jenner trying to cut a damn cucumber is the most tragic thing I've ever seen,
— a user named Sophie wrote.
Kendall responded to this message by reposting it and attributing: "Tragic."
I love how Kendall Jenner is trying to prove that she is not an out-of-touch, rich girl, insisting on making herself a snack, and almost dislocates her shoulder trying to slice a cucumber.
How now to see this crazy way of slicing cucumber?
Every time it seems to you that you are not coping with something, just look at how Kendall Jenner is trying to slice a cucumber,
— twitter users wrote.
The new Kardashian—Jenner family show is coming to Hulu from April 14.
*Twitter is blocked in Russia