The main scandal of the Academy Awards 2022: Will Smith hit host Chris Rock for joking about his wife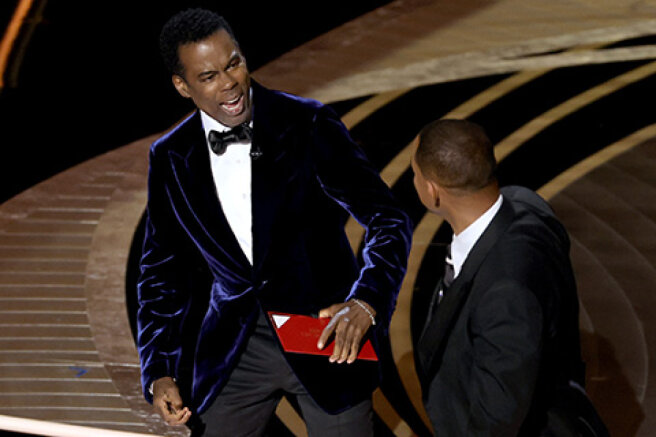 Will Smith hit the host of the last Academy Award ceremony, Chris Rock, who unsuccessfully joked about his wife Jada Pinkett-Smith.
The actor came to the ceremony accompanied by his wife Jada, who appeared in a lush dark green dress with a train and a short haircut. It was the hairstyle that became the reason for the joke of the presenter. Before announcing the winner in the nomination "Best documentary", Chris Rock stated:
Jada, I love you. I can't wait for Soldier Jane 2 to be released.
The joke exasperated Will Smith: he went up on stage and hit the presenter in the face. At this point, the broadcast stopped. Already sitting in the hall, the actor shouted loudly that he should not dare to speak out about his wife.
Don't say her name with your filthy mouth—" he said. The guests in the hall reacted violently to his words, and the presenter noticed that this was just a joke.
Will Smith later apologized for the incident when he took to the stage for his award, which he received in the Best Actor category for the film "King Richard".
According to Variety, Chris Rock did not continue the conflict and is not going to report the actor to the police. However, not everyone believed in the sincerity of the conflict — the media suspected that all this was arranged to raise the ratings of the award, which were too low in recent years.
The organizers have already commented on the incident:
The Academy does not approve of violence in any form," the official Twitter says.
Will Smith's patience could burst for a reason — Chris Rock jokes about Judd not for the first time. In 2016, Jada published a video in which she announced her intention to boycott the Oscars together with her husband due to the fact that there are too few black nominees. After that, Chris Rock joked at the ceremony that she did not come simply because she was not invited.
The hair issue is quite painful for Jada Pinkett-Smith. For many years, the woman has been suffering from alopecia — and at first it was hard for her. But then Will Smith's wife managed to accept it.
Now I can only laugh at it—" she confessed to reporters.