Mila Kunis "discussed" Ashton Kutcher with his ex-lover Demi Moore in a funny video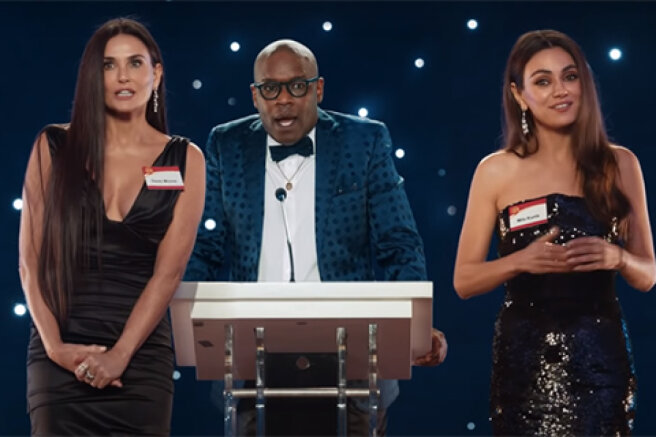 Hollywood actresses Demi Moore and Mila Kunis starred in an American provider's commercial for the SuperBowl, in which they joked about what Ashton Kutcher "unites" them. Demi was married to the actor from 2005 to 2013. They broke up at the same time back in 2011, and soon Ashton began an affair with Mila. They got married in 2015 and now have two children: son Dimitri and daughter Wyatt.
According to the plot of the video, Demi and Mila find themselves at a meeting of school graduates. At the event, the presenter is going to present a prize to the most revered graduate. Each of the actresses takes it personally and rushes to the stage in advance. As a result, the award goes to a completely different graduate - the most ordinary woman.
I didn't know we went to the same school,
Demi says to Mile.
We have a lot in common,
- she retorts, clearly alluding to Ashton Kutcher.
The video is actually based on real events. Moore and Kunis really studied at the same school in different years — Fairfax High School in Los Angeles. Kunis, who was initially invited to the shooting, immediately offered to invite Demi Moore.
During our first meeting with company representatives, we discovered that Demi was also a graduate of Fairfax High. I thought it would add a little more humor to the commercial, which was already hilarious in itself. I contacted her and was thrilled when she agreed to participate,
- Kunis commented on the shooting.
Demi and Ashton's divorce was difficult, in her memoirs, the actress told about Kutcher's infidelities, but now Demi seems ready to irony over this chapter in her life. Ashton, in turn, still maintains a relationship with Demi's three daughters from Bruce Willis — during his marriage with Moore, he became very friendly with the girls.