Kate Middleton played the piano publicly for the first time — her talent was admired on social networks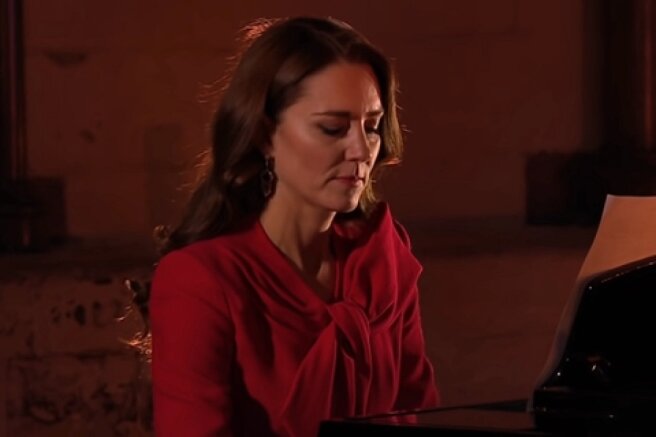 The Duchess of Cambridge demonstrated her piano playing skills to the public for the first time — during the charity concert "Together for Christmas" she accompanied the Scottish singer Tom Walker, who performed the song "For those who are not with us".
Kate herself approached Walker with a request to perform together at a Christmas concert after she was delighted by the musician's singing at one of the charity events in October. Tom instantly agreed and shared his delight at working with the Duchess on Instagram:
This is almost the best thing that has happened to me in my life. I am eternally grateful to the Duchess of Cambridge for being a part of this performance. And for choosing my song, deciding to share your talent with the world! The number is dedicated to everyone who is not with us this Christmas, including my grandfather. Even if he didn't like the music that began to be written after the 80s, he would definitely brag about such an event in a pub to his friends.
In the life of the 39-year-old Duchess, music occupies a fairly large place. Kate took piano lessons for several years, and during the lockdown due to the coronavirus pandemic, she played especially a lot because it helped her and her family cope with stress. But until now, the wife of Prince William has not performed in public, so during the first rehearsal with Tom, she was very worried.
However, judging by the reaction to the Duchess's game on social networks, these worries were in vain.
Wow! The Duchess of Cambridge continues to surprise us. Another reason to admire her. Thank you for sharing your next talent with us. 
This is the highest class! Kate is amazing! I didn't even know that she was also a good pianist! That's who deserves to be called the future queen! This woman is perfect.
The concert "Together for Christmas", which took place at Westminster Abbey on December 8, was organized by Kate Middleton and Prince William in support of those who found themselves in the most vulnerable position during the pandemic — the poor, doctors, employees of public and charitable organizations.
First of all, this evening is dedicated to the manifestations of kindness, love, empathy and compassion that have helped people through difficult times,
- it says in the official Instagram of the Duke and Duchess of Cambridge.