Angelina Jolie discussed the plight of Afghan women with politicians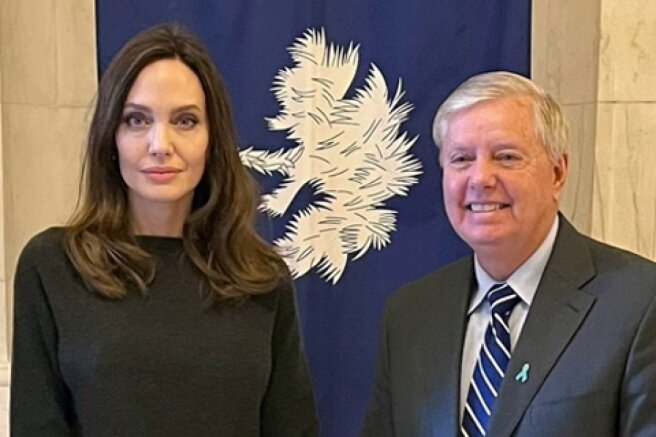 On December 14, 46-year-old Angelina Jolie visited the Capitol, where she met with representatives of the US legislature and discussed socially significant issues with them, such as domestic violence and the situation of women in Afghanistan. Senators Mitt Romney, Lindsey Graham and Congresswoman Corey Bush shared their impressions of communicating with the actress on social networks. 
Today I had a very productive meeting with Angelina Jolie regarding the situation of women and religious minorities in Afghanistan. Our nation and the entire international community must work together to avoid a humanitarian catastrophe in Afghanistan,
Lindsey Graham tweeted.
He added that the Capitol greatly appreciates Jolie's desire to help the Afghan people who are going through difficult times.
Senator Mitt Romney in his comments praised Jolie's work as a UN goodwill ambassador:
I met with Angelina Jolie to discuss how we can support families and children in our country and abroad. I am grateful for everything she has done as a goodwill ambassador and for the fact that she continues to actively defend the rights of the oppressed.
Angelina discussed the Violence Against Women Act (VAWA) with Corey Bush. 
I am eternally grateful for the opportunity to collaborate with such strong women across the country in our movement to end domestic violence. Since I have experienced it myself, for me this struggle is personal. Thanks to Angelina Jolie for becoming one of the leaders in the battle against violence against women,
- the congresswoman tweeted.
Angelina Jolie has been protecting women's rights and promoting humanitarian projects around the world for many years. In September, the actress visited the White House to support the reauthorization of VAWA - this law, which greatly simplified the prosecution of violent crimes against women, was adopted back in the era of Bill Clinton's presidency. But since it has a limited validity period, it needs to be updated every five years, which happened earlier this year.