Have you confirmed the novel? The network discusses the passionate kiss of Dani Milokhin and Evgenia Medvedeva on the show "Ice Age"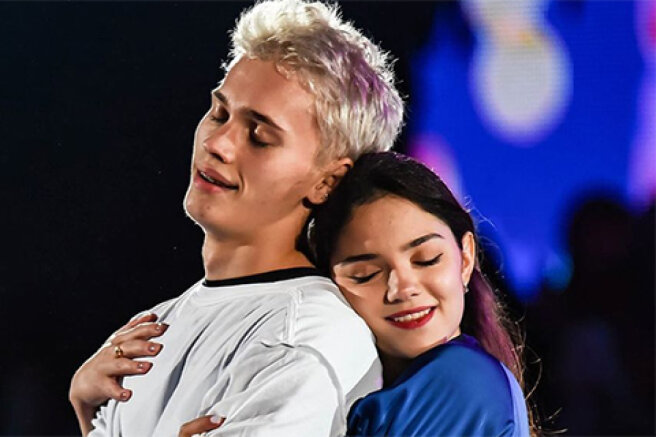 A video from the filming of the finale of the show "Ice Age" appeared on the network, which got a passionate kiss from Dani Milokhin and Evgenia Medvedeva. The network believes that he was too long and sincere for the staged part of the show, and now they are sure that this is how Danya and Zhenya made it clear that they were having an affair. 
Tiktoker and the Olympic figure skater became one of the brightest couples of the project, and many have already dubbed their couple "the prince of Tiktok" and "the princess of ice", hinting at a possible celebrity romance, rumors about which are discussed almost from the first rentals.
The suspicions of fans of Dan and Zhenya were actively provoked throughout the season: innocent kisses through a screen or a Spider-Man mask had already appeared in their rooms earlier, and Zhenya began to appear frequently in Milokhin's video for tiktok.
Danya himself, in a new interview with Forbes, even admitted that the project changed him a lot.
He became a good boy, an athlete, a zozhnik. Now there is no time for parties at all,
— he said.
Many believe that it was Medvedeva, with whom tiktoker is supposedly very much in love, who influenced him so positively.
Neither Danya nor Zhenya have officially confirmed their romance yet. Some viewers of the "Ice Age" even believe that all this is nothing more than a PR move to warm up interest in the project, as well as to attract as many fans of Milokhin to the audience as possible, who will want to follow the personal life and "office romance" of their idol. The finale of the show will be aired on January 2.