Violence, racism and a "room for bad girls": an investigation about Marilyn Manson has been released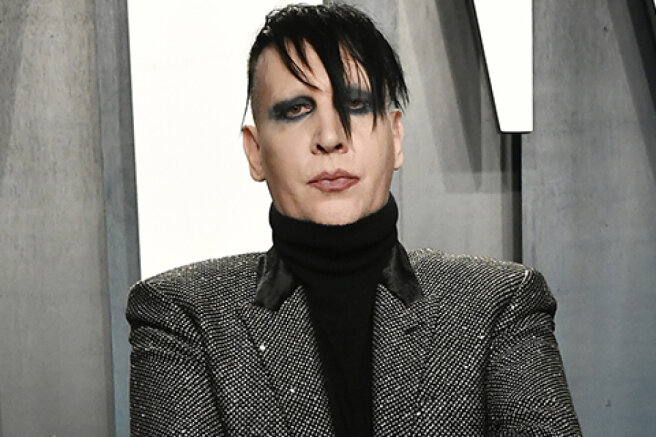 On Sunday evening, Rolling Stone magazine published a big investigation about Marilyn Manson, who is accused of sexual, physical and psychological abuse. More than 55 people who communicated with Manson at different periods of his life shared their stories with the publications for nine months.
Three people who say they were Manson's buddies in the 1990s claim he showed them his sex videos.
Brian (Brian Warner is the singer's real name. - Editor's note) showed a tape with all the girls who had oral sex with him in his dressing room. He was proud of it,
— they said.
Former friends of Manson also claim that the musician often joked about violence. In his 1998 memoirs, he described in detail the "hoax" of a woman to whom he said the following:
We're going to rape you in the parking lot and then crush you under your own car.
The fact that Manson often joked about rape was also mentioned by actress Esme Bianco, who starred in the TV series "Game of Thrones".
Even before entering into a relationship with him, he talked about raping me,
— she declared.
Other sources of the publication accused Manson of racism — according to them, he often used an offensive N-word towards blacks.
He enjoyed the opportunity to say this in front of dark-skinned people,
- said the source.
The investigation also says that Manson was obsessed with Nazism. He kept a canister of acid "cyclone B" at home, which the Nazis used to kill Jews in gas chambers.
I saw him showing it to his Jewish friends and telling them to check it out,
- the insider shares.
Esme Bianco claimed that Manson beat her with a whip, which, according to him, was used by the Nazis.
Former colleagues of Manson claimed that he insulted members of his group and team. He also told them to keep an eye on each other and inform him of everything that was happening.
In 1996, he threw a microphone stand at his drummer Kenneth Wilson, as a result of which he ended up in the hospital.
Former girlfriends of Manson said that he had a "room for bad girls", which he used for psychological torture. The ex-lover of the singer Morgan Smithline said that the musician repeatedly forced her to stay in this room for several hours, which was the size of a dressing room.
It sounded cool at first. And then he started saying it very sternly. Even if I shouted, no one would hear me. I learned not to fight it because he would get what he wanted,
- she shared.
Almost all the women who came forward with accusations of Marilyn Manson's abuse said that their romance with the singer began on a positive note — he complimented them and courted them. But then all this quickly turned into manipulation on his part.
In her lawsuit, Morgan Smithline claims that Manson strangled, bit, carved his initials on her thigh and raped her several times. Esme Bianco stated that their relationship was accompanied by drug use, constant monitoring and sexual abuse by the singer.
One anonymous woman who sued Manson for sexual assault claims he pushed her to the ground and raped her.
He said she drove him crazy and forced him to do it with her. After that, he told her, "Don't ever make me do this to you again,"
- her lawsuit says.
After the attack, according to the woman, Manson threatened to kill her and boasted that he would get away with it, because she was nobody, and he was a star with connections in the police.
Last October, several women, including Morgan Smithline, Esme Bianco, and Evan Rachel Wood, met in Los Angeles. Some of them were strangers to each other before. But they all had one thing in common: each of them said that the singer had bullied them. About three months later, actress Evan Rachel Wood accused Manson of systematic violence.
Marilyn Manson himself denies all the accusations against him and claims that his former partners are "cynically and shamelessly trying to monetize and use the #MeToo movement." According to him, everything in his relationship was consensual.
Despite numerous accusations against the singer, his ex-wife Dita von Teese defended him, noting that during the entire time of their relationship she had no such experience, and they broke up because of Manson's infidelity and his addiction to drugs.
Now Marilyn Manson is married to Lindsay Yusich, who has not yet commented on the accusations against her husband.