Meghan Markle took part in an online summit and admitted that she is always looking for discount coupons for shopping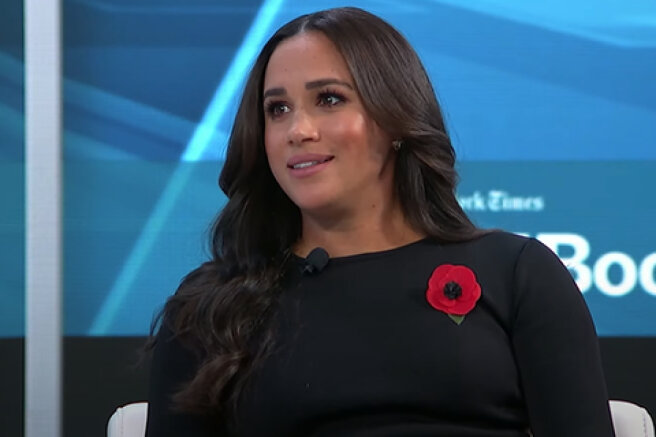 40-year-old Meghan Markle actively fights for women's rights and often speaks publicly, defending women around the world. Yesterday, the Duchess of Sussex took part in The New York Times DealBook online summit, which focused on how women can achieve economic and professional equality.
To participate in the discussion, Megan preferred a restrained image. She was wearing black trousers, a cashmere top and classic pumps. On her chest she had a brooch in the form of a red poppy, which is a symbol of the memory of the victims of the First World War. Such a memorable decoration is often worn by members of the royal family, with whom Meghan, apparently, still identifies herself.
The Duchess of Sussex continued her recent discussion on the introduction of paid parental leave in the United States. Recently, the Duchess wrote a letter to the US Congress, in which she asked congressmen to consider this issue and take the necessary measures.
Megan also admitted that she is still looking for discount coupons when shopping online. This habit was formed in her childhood, and over the years, according to her, her values have not changed.
I will never buy anything online until I find a promo code first,
The Duchess said.
Megan has already told me that since childhood she used to work. She started her first "business" at the age of eight — Megan made hair bands for sale.
My mom went downtown to buy scraps of fabric at the store, and I was selling rubber bands. I remember this feeling of realizing that I did something, invested in myself and made a profit for my work. This gave rise to a sense of pride. These couple of hundred dollars give you a feeling not only of a completed goal, but also give you a sense of self-satisfaction,
- she shared.