Zhanna Shamalova told about the scandalous divorce from "Putin's former son-in-law" Kirill Shamalov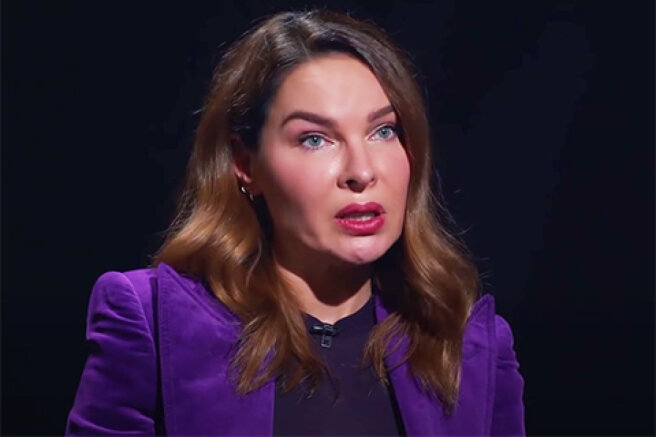 At the beginning of the summer, rumors appeared in the press about the divorce of Kirill Shamalov, a 39-year-old entrepreneur and Vladimir Putin's former alleged son-in-law (he was previously married to Katerina Tikhonova, who is called the president's daughter in the press) with his current wife Zhanna. The separation turned out to be very scandalous: Kirill said that Jeanne married him solely for mercantile reasons and appealed to the court to invalidate their marriage. While rumors abounded in the media about the real reasons for the couple's separation, the Shamalovs themselves remained silent for several months. Now Zhanna finally decided to have a frank conversation with Ksenia Sobchak as part of her YouTube show "Caution: Sobchak". In this conversation, she shared her version of the breakup with her husband for the first time, told how he wants to deprive her of her unborn daughter, who is being carried by a surrogate mother, and also remembered how their romance began.
About the beginning of an affair with Kirill Shamalov
We got married for great love, and before that we were friends for many years. We were introduced by mutual friends in Monte Carlo. It was some kind of ball or some kind of beautiful event. Many years have passed. I got divorced (before Shamalov, Zhanna was married to the former deputy head of the Health Department for Construction Issues of the Moscow City Hall, Sergei Volkov. - Ed.). Being in Monaco, we met again, it was about a year before the marriage. We began to communicate, we had common interests and friends. Kirill was already unmarried at that time, too.
At some point he came to London, we went to a restaurant with friends and he asked me: "Tell me, what do you want?". I said: "I want to get married and really want another child." Because my age was already closer to 40, and my son had already grown up (the son from marriage with Sergey Volkov. - Editor's note), and this is very important to me. He replied: "I heard you." Our relationship started a few months later when he came back to me and asked: "Do you consider us as a couple?". I replied that of course yes. Our relationship developed very rapidly. It was a very beautiful love story. I think we had feelings initially. My husband is a young, handsome, very intelligent and educated man, with whom it is interesting. It's very easy to fall in love with such a person.
About the first problems in marriage
In June, when our child was already four months old, my husband informed us that we could not advertise that a surrogate mother was carrying him, so it was better for me to leave Moscow. He sent me to the Saint Barthelemy Islands with my sister and said he would come to us in a couple of weeks. When two weeks later I realized that my husband was not coming, I asked what was going on. From the conversation with the staff, I realized that the person does not spend the night at home. This alarmed me, and I took the first plane ticket and flew home. I informed him that I was at home and that we needed to talk. The man did not come home to spend the night for three days.
Three days later he showed up and was not quite sober. We talked, and he informed me that there is another woman, but he will close this issue because we have a family and we are expecting a child. This is not Alyona Gavrilova (ex-wife of singer Emin Agalarov. - Ed.). As it turned out later, this is a completely different person. He was seen with Alyona several times, but this whole story was in order to look away from another person. This is Nelly Davydova (founder of the Success Lab. - Ed.), and she has three children. Apparently, they are actively developing a relationship, and my husband does not hide it. I know that he has already introduced her to all her friends and to his entire office.
About parting with her husband
After we talked and he promised to close the whole story, he just stopped coming home. He disappeared for 2-3 days, just came to change clothes and left again. It was a month of hell, I didn't understand what was going on. At some point I told him I couldn't do it anymore. I decided that I could no longer be in such an atmosphere and went to my apartment. Then he called me and told me that I had to give up the child, and also sent a statement from his lawyers that I had to sign. The next morning, when I went down to my car in the parking lot, the security told me that three people arrived at night with knives and cut my wheels. I understood that the situation was heating up and I probably had to leave the country, because it was no longer safe. Without telling my husband about it, I took the first flight to Monaco to visit my son.
About changes in her husband and threats
I can't say that all this is all (it's about threats. - Ed.) did my husband. I understand that he is under the influence of some people, because I married a kind and decent man. I don't think he's even recognized himself in the last four months. And I am convinced that he is under the influence of someone or something who needs it: for us to separate, for my child to be taken away from me. I made these conclusions because he didn't communicate with me for four months and blocked me everywhere. And somehow he called me at night and was in a bad way. He said he loved me very much and wanted me to come home. He said he loved my son, my family and my sister, and also asked for forgiveness for everything he had done. He said he didn't recognize himself. It was in early October. The next day, when I called him, he was in a different mood. He said that he really regretted that I had to experience such stress. He said I was a good wife, and he didn't want to offend me, but we follow the protocol: "You are not the mother of our daughter." In my opinion, a person is still under the influence of new friends.
About Kirill Shamalov's new friends and the "marriage swindler"
I had friends in London: a husband and wife, whom I introduced to Kirill. As a result, this friend became a close friend of my husband. Now Kirill is helping him with new projects and they are together 24 hours a day. This person introduced Kirill to this madam (talking about Nelly Davydova. - Ed.). This friend called me and told me that it was better for me to agree that I was a marriage swindler and give up the child. For this I can get some kind of material reward. We filed a 600-page objection, I have photos with my husband where we kiss — and this is a selfie every four days. The lawsuit states that I married a wealthy man, that I have a business that I have been running for ten years, that I have quite a lot of property and a regular income. But when marrying Kirill, we signed a marriage contract on his initiative. I understood perfectly well that he had serious capital and a serious business, which I did not want to have anything to do with.
About the missing surrogate mother
At the 39th week of pregnancy, she disappeared, and I had to write a statement to the authorities so that they would help us with the search for a surrogate mother. In the statement, we (Jeanne and her team of lawyers. - Editor's note) wrote that we are looking for a man who has disappeared. They wrote that we hope for their help (the help of the Investigative Committee. - Editor's note) and support, because the person disappeared without a trace, and we don't know anything. I hope they will respond to our application, and we will have a chance to find a person, because I am very worried about the health of her and the baby, because she is about to give birth. We haven't filed a statement to the police yet, we went a little different way. I can't contact my husband, he doesn't answer and blocked me everywhere. And the representative of the company I turned to explained to me that Kirill Nikolaevich (Shamalov. - Ed.) took the surrogate mother. In his statement, he wrote that he offered the surrogate mother a fee of 10 million rubles, and fully assumes responsibility for the subsequent birth and registration of the child. As I was told, he is very afraid that I will file for alimony. But I can assure you that this is not about money. We planned this baby, and I certainly want to raise my daughter.