Madonna in the image of Harley Quinn celebrated Halloween with her boyfriend and children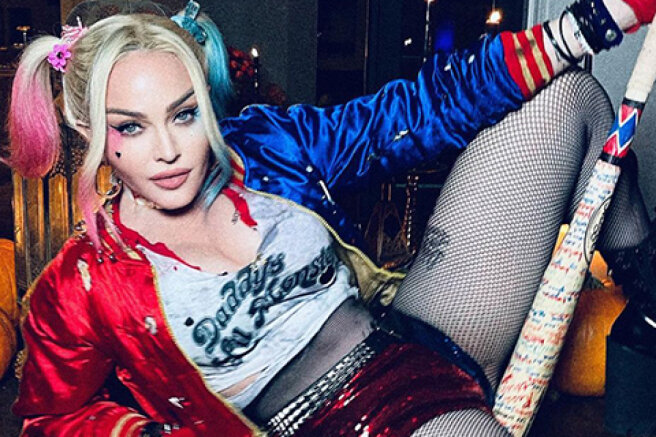 Hardly everyone had time to decide on personal favorites of the past Halloween, as today a new batch of festive pictures arrived.
A grand party on the occasion of the holiday was arranged by 63-year-old Madonna. The star celebrated Halloween together with her numerous friends, 27-year-old boyfriend Ahlamalik Williams and children: 25-year-old Lourdes Leon, 21-year-old Rocco, 16-year-old David Banda, 15-year-old Mercy James and nine-year-old Stella and Esther.
Madonna herself was reincarnated as Harley Quinn, a famous supervillain and associate of the Joker. She was dressed in shiny mini shorts, fishnet tights, a short top with the inscription "Daddy's Little Monster", a red and blue bomber jacket and high platform boots. Like her heroine, she made two ponytails and painted them pink and blue. And, of course, a baseball bat became an integral part of her image.
In addition, to match the character of Harley Quinn played by Margot Robbie in the movie Suicide Squad, Madonna had several tattoos that were visible through her tights.
From the image of the star, her fans were delighted and called her the queen of Halloween. It looks like Heidi Klum has a serious competitor!
Madonna's boyfriend ignored the festive dress code for some reason, but her children, on the contrary, supported their mother. Madonna's son David appeared in the image of actor and comedian Richard Simmons, her daughter Esther chose a cheerleader outfit, and Lourdes Leon, it seems, wanted to repeat the image of Megan Fox's heroine in the movie Jennifer's Body, wearing a miniskirt and smearing her face with artificial blood.