Kylie Jenner's ex-boyfriend rapper Tyga accused of domestic violence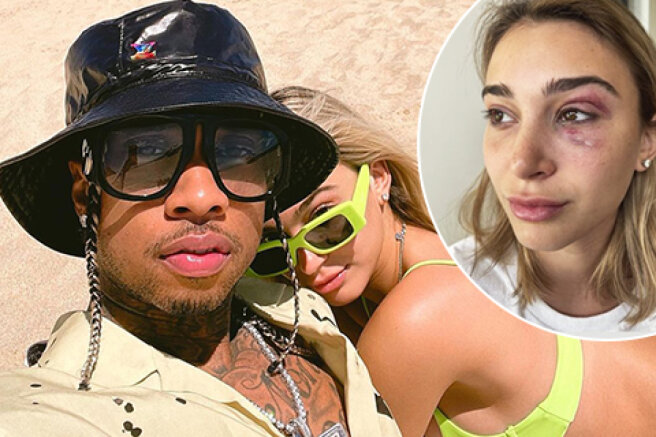 22-year-old instadiva and model Kamarin Swanson accused her 31-year-old ex-lover rapper Tyga of domestic violence. The American tabloid TMZ was the first to report this. His sources said that the day before, around three o'clock in the morning, the girl appeared at the house of her ex-boyfriend allegedly in a state of strong alcoholic intoxication. According to the portal, the girl screamed and asked to let her inside, and the young man was against it.
Later, the rapper used physical force on his ex-girlfriend, after which her mother took her home. Already at home, Svenson's mother reported the incident to the police. Kamarin told the employees who came to the call that her ex-boyfriend beat her, and also told about domestic violence in the report.
Later, Kamarin posted a photo on her Instagram with bruises on her face and turned to TMZ reporters:
TMZ journalists, I have become a victim of emotional, psychological and physical abuse, and I'm not going to hide it anymore.
Svenson also published a screen of correspondence with her ex-boyfriend, who refutes the insiders' version that the girl came to the rapper's house against his will. From these messages it becomes clear that Tyga was waiting for Kamarin and even called her a taxi himself, and then kept her in the house for several hours.
I didn't scream, and I wasn't an uninvited guest in the house. When I tried to leave, he stopped me, and then kept me in the house for several more hours,
- Kamarin explained in the comments to the screenshot.
Next, the girl published a short video where she is depicted with bruises on her face, in the caption to which she admitted that she was ashamed to talk about what happened, but this is the only way to stand up for herself. The rapper Tyga himself has not yet commented on the accusations against him. Today he must appear before the police and tell the staff his version of what happened.
For the first time, the romance of rapper Tyga and Kamarin Svenson became known in the spring of this year, and in July, paparazzi filmed a model with a ring resembling an engagement ring. Before Kamarin, the rapper dated Kylie Jenner for about two years, but in early 2017 it became known about their separation. After the breakup, Kylie repeatedly spent time in the company of her ex-lover, which provoked rumors about their reunion.