Shannen Doherty spoke about the fight against the last stage of cancer: "It's ugly, but true"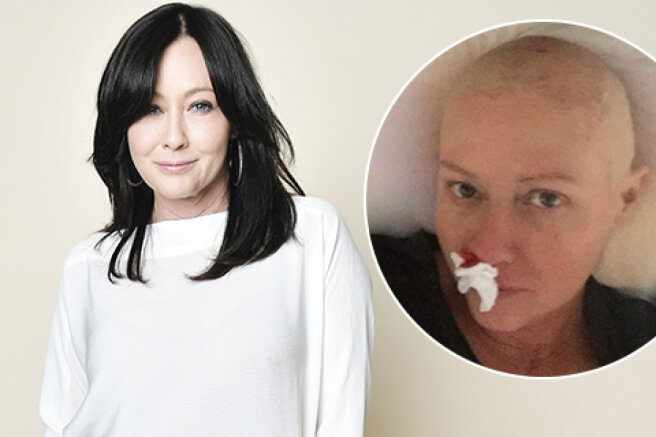 The star of the TV series "Beverly Hills 90210" and "Charmed" Shannen Doherty has been desperately battling breast cancer for several years. In 2017, the actress went into remission, but last year the disease returned in the fourth stage.
Doherty dedicated yesterday's post on her Instagram to the Breast Cancer Month, which takes place annually in October. The star posted a couple of photos, captioning them "My journey from the initial diagnosis to relapse." The photos were taken a few years ago, when Shannen was undergoing chemotherapy after a mastectomy, and tell about her difficult everyday life.
Is it beautiful? No, but it's true. I hope this will help people become more educated and learn what cancer really looks like. I hope that in this way I will encourage people to undergo regular examinations, do a mammogram, overcome their fear and look him straight in the eye. In 2015, I was diagnosed with breast cancer. I had a mastectomy, and then chemotherapy and radiation. After chemotherapy, I often had nosebleeds. I'm not sure any of you have been through this. I was very tired, and funny pajamas lifted my mood. I looked ridiculous, but this way I could laugh at myself. It was humor that helped me get through what seemed impossible. I hope we all find a reason to laugh at seemingly impossible things,
Doherty asked her subscribers.
Last month, Shannen also talked about her life with terminal cancer. The actress admitted that she feels responsible to people when she publicly talks about her illness and urges everyone to pay more attention to their health. At the same time, in real life, during communication with her husband and friends, Doherty does not often remember about the disease:
My husband (since 2011, Shannen has been married to photographer Kurt Isvarinko, the couple has no children. - Ed.) says that from the outside you will never know that I have cancer. I never complain about how I feel. In fact, I hardly talk about it. It's just a part of my life right now.
Doherty claims that he is enjoying life now: spending time with friends and family and doing work. Last year, Shannen confessed to fans that she wanted to prepare for her departure and record video messages for her loved ones. It is difficult for the actress to start this process, because so far she does not feel that her mission on earth is over.
I feel like a very healthy person. It's hard to finish your business when it seems to you that you will live another 10-15 years,
- Doherty shared her feelings.