Hailey and Justin Bieber celebrate their third wedding anniversary and publish archive photos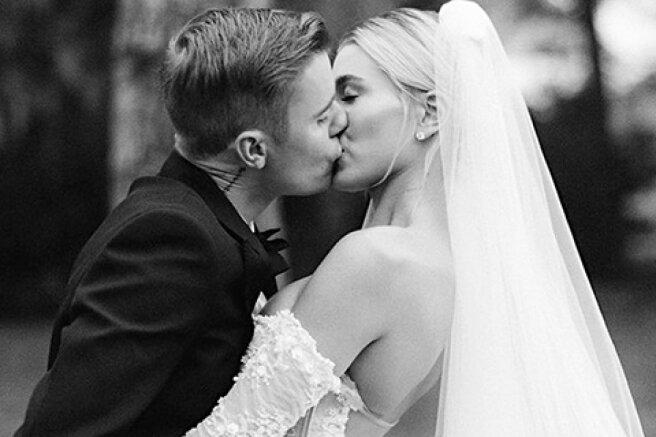 In mid-September, 27-year-old Justin Bieber and his 24-year-old wife Haley celebrated the third anniversary of the official registration of marriage. The star couple played a magnificent wedding a year after the painting in South Carolina. Yesterday, the couple celebrated exactly two years since this bright event, which Hayley recalled on her Instagram.
The model posted several pictures from the luxurious celebration, which was attended by many of the couple's star friends. In one of the photos, the newlyweds merge in a tender kiss, and in the other they dance incendiously. Haley also showed her wedding outfit in all its glory: it was specially sewn for the model by the creative director of the Off White brand Virgil Abloh.
I immediately wanted Virgil to be responsible for the design of my dress. Street style is a part of me. Virgil was with me from the very beginning, and I wanted him to make an unusual wedding outfit for me,
- Hayley was telling me about her wedding dress once.
The wedding in South Carolina cost Justin and Haley about $1.3 million. About 150 people were invited to the large-scale party, including close friends of the couple Kendall and Kylie Jenner, Camila Morrone, Katy Perry, Ed Sheeran and many others. Every little thing at the party was thought out by Hayley herself. Later, Justin even joked that he practically did not take part in solving most of the issues related to the organization of the celebration, and on the appointed day he just showed up for the holiday.
Justin Bieber and Hailey Baldwin briefly met as teenagers, but then they maintained friendly relations for many years. Everything changed in 2018, when the singer put the final end to a long-term romance with Selena Gomez. After this breakup, Justin almost immediately got together with Hayley, and just three months later made her a marriage proposal. In a recent interview, the model admitted that she was very young when she agreed to marry Justin, but clarified that at that time she was already absolutely ready for marriage.
We were friends for a long time before we started a romantic relationship. However, we always knew what we wanted from the future. We talked about wanting to get married, build a family and our life at a young age. We discussed this even before we realized that we wanted to be together,
- Haley was talking about her relationship with Bieber.