The mysterious ring on the little finger and the watch of Princess Diana: Meghan Markle went out in jewelry worth 400 thousand dollars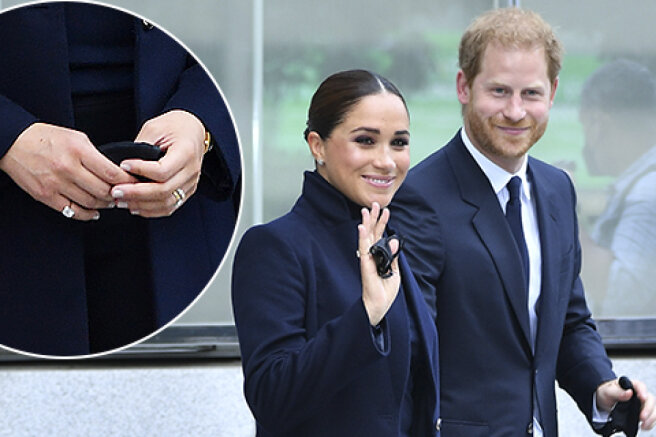 Today's appearance of 40-year-old Meghan Markle and her 37-year-old husband Prince Harry after a long break attracted even more attention than the recent appearance of the couple on the cover of Time magazine. Journalists immediately began to analyze in detail the image of the Duchess of Sussex, who appeared in public for the first time after the birth of her daughter Lilibet.
Megan chose a rather restrained outfit for an official visit to New York: she was wearing black flared trousers, a turtleneck, a dark blue coat and matching stilettos. At the same time, Markle supplemented her image with a large number of jewelry, the total cost of which was estimated by Mail Online journalists at more than 400 thousand dollars.
The most expensive accent in her image was an engagement ring made of yellow gold with diamonds, worth about 372 thousand dollars. Meghan's hands were also decorated with a diamond ring in the form of snowflakes — one of Prince Harry's gifts, as well as a new decoration on her little finger. According to rumors, this diamond ring was given to Megan by an unknown sponsor from the Middle East, and its value can only be guessed. It is also a mystery when exactly Markle received this gift: before she resigned from her royal duties or after.
On the wrist of Meghan's left hand was a gold Cartier watch that used to belong to Prince Harry's late mother, Princess Diana. Lady Di received them as a gift from her father on her 21st birthday, and then Harry gave them to Meghan as a family heirloom. Previously, the cost of the watch was estimated at about 24 thousand dollars, but given their history, now this accessory is much more expensive. Megan's image was completed with Cartier earrings worth about 16 thousand dollars, in which she had previously appeared at her own wedding and the christening of her son Archie.