All in white: Kate Middleton at the presentation of her new photo project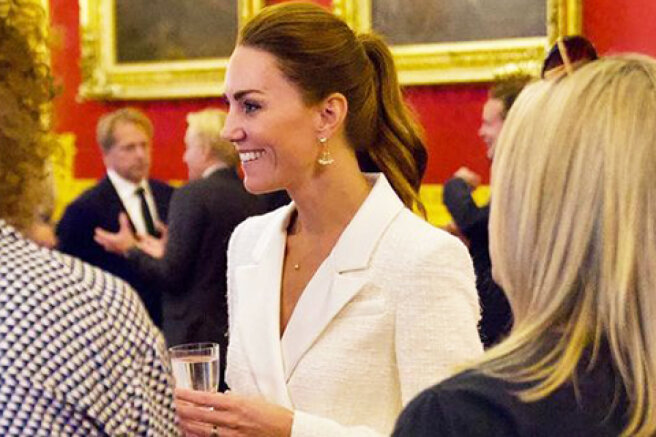 With the onset of autumn, 39-year-old Kate Middleton has fully returned to her royal duties. Recently, the Duchess of Cambridge had a busy time in Cumbria, and yesterday she visited the presentation of her new photo project called Hold Still.
Kate met with representatives of the National Portrait Gallery and other associations that throughout the year helped her to implement the new initiative. At the reception at Buckingham Palace, the Duchess appeared in all white: she was wearing a jacket and a pleated skirt trimmed with lace, from the Self-Portrait brand. Kate's hair was gathered in a ponytail, and she complemented the delicate image with laconic jewelry.
Kate Middleton started working on the Hold Still project last year. Then she called on people across the UK to capture a photo of how their life is going in self-isolation due to the coronavirus pandemic. Over the past year, the Duchess met with many of the hundreds of finalists of the competition, whose photos were eventually included in the new photo book. Kate managed to communicate with someone in person, and she met with others at video conferences.
It took a long time to bring together all the participants of this incredible project, but tonight we finally succeeded! The idea of Hold Still was born at the very beginning of the pandemic, and its main goal was to unite people through the power of photography,
- shared her emotions after the presentation of Kate.
Recall that Kate Middleton has been fond of photography for many years. Her main source of inspiration is family members: pictures of Prince William and their three children by Kate regularly appear on the couple's official Instagram account and other social networks.