As a mother: the most touching photos of Princess Diana with her sons William and Harry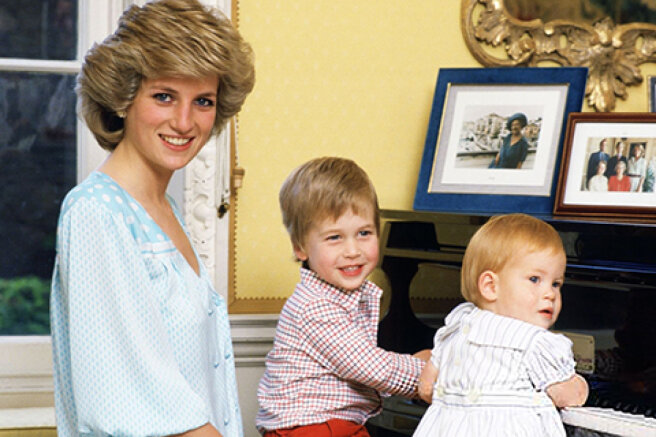 24 years ago, the life of the British royal family changed forever: on August 31, 1997, the former wife of Prince Charles, Princess Diana, died as a result of a car accident — a favorite of the public, a role model, a woman who inspired millions of people around the world. In the hospital, where she was taken from the scene of the accident, doctors could not save her — the Princess of Wales died two hours later. Princess Diana was only 36 years old. She is survived by two children: Princes William and Harry, who at that time were 15 and 12 years old, respectively. Her death was a huge tragedy not only for the UK — the whole world was grieving. But, of course, her sons experienced this loss most of all. Her mother has always been a link for them, and even now, when their relationship is not as warm as before, Diana continues to unite them. It seems that for the sake of their late mother and the memory of her, they are ready to forget past grievances and start everything from scratch. Today, on the 24th anniversary of the death of Princess Diana, we remember what a loving and wonderful mother she was for her sons.
Diana tried to raise William and Harry as simple children. She often walked with them in the parks, sent them on school trips, took them on trips with her, and insisted that they go to a public school and receive an education outside the palace walls (the brothers eventually received an education at a school in Berkshire, and then both graduated from Eton College).It was clear from personal photos and public speeches that Diana adored her sons more than anything else in the world. They were everything to her, and, responding to her in return, many years later, William and Harry speak of her with the same great love.
She was our mother. She's still our mom. And, of course, as a son, I can say that she was the best mother in the world. She loved us immensely, that's for sure,
- said Harry in the film "Diana, our Mother: Her life and Legacy" (Diana, Our Mother: Her Life and Legacy).
Princess Diana loved to hug her children, and, according to Prince Harry, even now he remembers how she did it.
She would wrap her arms around you and squeeze you as tightly as possible. Since I was very young, I had no way to escape. You were in her arms for as long as she wanted to hug you. Even now, when I talk about it, I can feel her hugs that she gave us. I miss this feeling, I miss that mother who could hug you and show you the compassion that everyone needs. Behind closed doors, she was a very loving, caring mother and an incredibly cheerful person,
— he shared.
Prince Harry said that his mother sometimes played pranks and behaved a little hooligan, which, of course, brought her very close to her sons.
One of her mottos was: "You can be as naughty as you want. But don't get caught." She came to watch us play football, and carried sweets in our socks,
— he was saying.
Diana said that William and Harry adored each other. In a letter to the butler of Buckingham Palace, Cyril Dickman, she wrote that William kissed his younger brother endlessly when he was born.
William adores his younger brother and endlessly hugs and kisses him, barely letting his parents get to him,
— she shared.
William and Harry constantly pay tribute to their mother's memory. The Duke of Sussex and his wife Meghan Markle even named their daughter after her, giving her the middle name Diana (the first name of the girl, Lilibet, they gave her in honor of her great-grandmother Queen Elizabeth II. - Ed.), and Prince William admitted that he often tells his children, Prince George, Princess Charlotte and Prince Louis, about their grandmother.
Time heals, but I still miss my mom every day,
he thought of his mother.
This summer, William and Harry took part in the opening ceremony of the monument to Princess Diana in the garden of Kensington Palace, which took place on the day of her 60th birthday. In their speech, they called her a symbol of kindness around the world and made it clear that they still miss her very much.
Today, when our mother would have turned 60, we remember her love, strength and character-qualities that made her a symbol of good throughout the world, changing countless lives for the better. Every day we want her to still be with us, and we hope that this statue will forever remain a symbol of her life and her heritage, " they said.
ana and her sons" src="https://www.MustHub/img/2021/08/mariana/di/20210830-di22.jpg">