Demi Lovato spoke about her gender identity: "Maybe one day I will become a transgender person"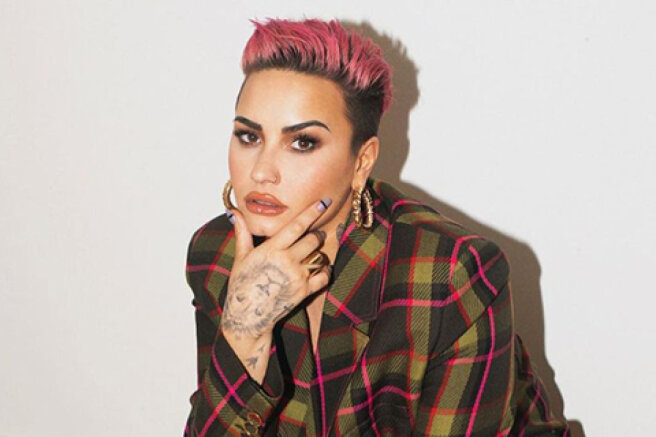 29-year-old actress and singer Demi Lovato recently made a coming-out as a non-binary person, and now she has said that she does not exclude the possibility that she will one day become a transgender person. This statement was made by Demi at the virtual educational summit The 19th Presents.
Perhaps there will come a time when I will identify myself as a transgender person, or maybe I will consider myself a non-binary or non-gender-appropriate person all my life. Or maybe when I get older, I will identify myself as a woman at all. I have a feeling that I will never reach certainty,
  Demi mused on the air.
Recall that in May, the singer said that she is a non-binary person (a person who does not consider himself either male or female gender. - Ed.), and asked to address her using the pronoun "they".
In a new interview on YouTube, Lovato explained what the concept of "non-ordinary"means for her.
What does it mean to be non-binary? This means that I am much more than just a binary man or woman. We all become much bigger if we allow ourselves to look inside ourselves and challenge the binary system in which we all grew up,
Demi explained. Later in the same interview, Lovato discussed the fears she experienced after coming out.
At first, I was very nervous because I told about my non-ordinary, because I was afraid that people would not believe me. But I still wanted to share it with others so that people could see what it means to be non-binary,
- the singer added, in conclusion, stating that she simply loves freedom.
I just want everything to be open and free! I am a very active person and all these questions relate to my self-expression,
- the star summed up.
The singer's personal life can only be judged by paparazzi pictures-recently the star was photographed together with 21-year-old Noah Cyrus, the younger sister of Miley Cyrus. It is unknown whether the couple has a romantic relationship-the stars have not made any statements.
But in statements on the topic of gender identity, Demi Lovato has no equal: in addition to confessions of non-ordinary, the star talked about her bisexuality and pansexuality. Recall that the reassessment of values in the life of Demi Lovato occurred a few years ago after a drug overdose, when the star was on the verge of life and death. Lovato spoke about her experiences, including the traumatic experience of sexual violence, in the documentary about herself Demi Lovato: Dancing with the Devil.