Kourtney Kardashian shared new photos from the wedding: "I will always remember this day"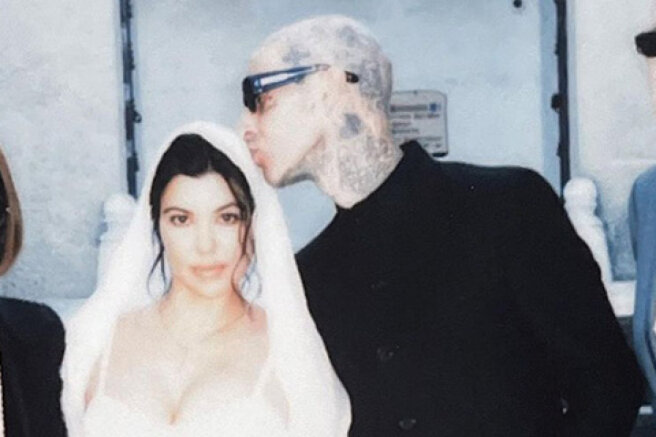 Kourtney Kardashian posted on Instagram* new photos from her wedding to Blink-182 drummer Travis Barker, which took place in Santa Barbara in May.
In the new footage, Kourtney Kardashian poses in a white wedding dress. In addition, her maternal grandmother, 88-year-old Mary Jo Campbell, can be seen in the photographs, as well as Barker's father, Randy Barker.
Under the post, the reality TV star wished her grandmother a happy birthday.
My special, sweet, chic, sophisticated, smart and most wonderful grandmother. Happy birthday my MJ. I am so happy that you were able to be one of the two guests who were with us when we entered into a legal marriage. I will always remember this day, " she wrote.
Kourtney Kardashian and Travis Barker got married three times: the first ceremony had no legal force and took place in Las Vegas after the Grammy Awards ceremony. Courtney and Travis came to the chapel in black leather jackets, and the "marriage" was made by a double of Elvis Presley.
The second ceremony was official and took place in Santa Barbara. It was attended only by the closest people.
The third ceremony took place in Italy: the couple staged a magnificent celebration to celebrate the joyful event with the guests. All the Kardashian sisters were present at the wedding, and Megan Fox and her lover, Coulson Baker, appeared among the guests. Not without scandals: because of the extravagant wedding dress, which consisted of a white mini-dress and a long veil with the image of the Virgin Mary (the same pattern is tattooed on Barker's head), Courtney was accused of disrespecting religion.
*Instagram is owned by Meta, a recognized extremist organization in the Russian Federation