Justin and Hailey Bieber at dinner in Los Angeles: new photos of the couple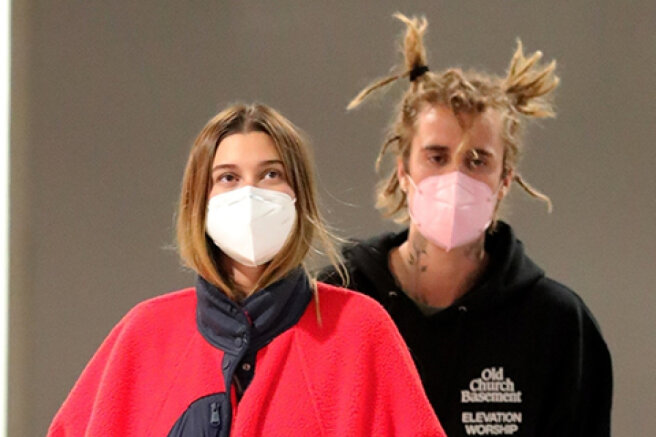 Yesterday, the couple Justin and Hailey Bieber once again got into the lenses of the paparazzi. The 24-year-old model and 27-year-old musician were filmed on the streets of West Hollywood. They were strolling after a late dinner at one of Los Angeles ' famous Japanese restaurants, Sushi Park. This place is especially loved by celebrities: at one time, reporters also met Charlize Theron, Kristen Stewart, Dakota Johnson and Chris Martin and their many star colleagues.
The couple went out in comfortable casual clothes: Hailey was wearing a voluminous plush bomber jacket in a bright coral shade and black trousers, and Justin was wearing his favorite black hoodie with inscriptions. Bieber had his dreadlocked hair pulled back into two funny ponytails on top of his head for convenience. In most US states, there is still a strict mask regime, which the couple decided not to violate, and appeared on the street in personal protective equipment.
Yesterday, right after dinner, Justin shared a new picture with his wife on his Instagram, taken during one of their previous photo shoots. In it, Hailey poses in a scarlet bodysuit, leather skirt, tights and matching shoes, while her husband appears bare-chested.
Undisputed champions,
- with this comment, Bieber accompanied the frame with his beloved.
By the way, recently in one of the conversations with journalists, Justin admitted that the first year of marriage was a real test for him and Hayley. According to the musician, he and the model very quickly decided to get married (which, however, now they do not regret at all), because of which at first they could not fully open up and trust each other.
The first year of marriage was really hard for us, because we had a lot of psychological trauma. There was just a lack of trust between us. This is when you really do not want to admit everything to a person with whom you are close, because you are afraid of his reaction, while you are afraid to scare off your partner by telling him about this fear,
Bieber shared.