Kris Jenner dodged the question about Kim Kardashian and Pete Davidson's affair with the help of Stormy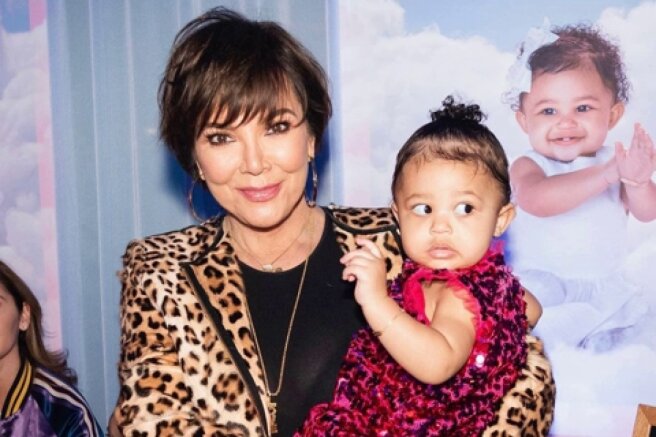 On New Year's Eve, Kris Jenner went live with CNN hosts Andy Cohen and Anderson Cooper, who took the opportunity to ask Kris about the relationship between her daughter Kim Kardashian and comedian Pete Davidson. The 66-year-old head of the Kardashian clan was saved from having to answer by Stormy's granddaughter.
Everyone is talking about Kim's new relationship with Pete Davidson. Have you already spent time with them? What do you say about them as a couple?
Cohen asked during the live broadcast, catching Jenner off guard.
It was at this moment that 3-year-old Stormy, the daughter of 24-year-old Kylie Jenner and 30-year-old Travis Scott, appeared in the frame, and Kris turned her attention to her granddaughter.
How well you distracted us. You can't think of a better time, Stormy! Perfect.
she joked.A possible romance between 41-year-old Kim Kardashian and 28-year-old Pete Davidson has been talked about since paparazzi photographed the couple holding hands in a California amusement park. In recent months, the media has repeatedly reported that Kim and Pete continue to go on dates. The couple was photographed during a walk in Palm Springs, and Kim was also one of the guests at Pete's birthday party in November.
A source told PEOPLE magazine that Kim is "very passionate" about Davidson and is "obviously happy," adding that both are very comfortable with each other, as if they had a much longer relationship.
This is exactly what Kim needs after the divorce — to have a good time, and to have someone make her laugh. Breaking up [with Kanye West] was a tough time for her, and Pete turned out to be the best antidote,
- the magazine quotes the words of an insider.
In December, it became known that Kim filed documents for divorce from 44-year-old rapper Kanye West. Kim and Kanye have four children together: eight-year-old North, three-year-old Chicago, five-year-old Saint and two-year-old Psalm.